About The Boat that Saved Mankind
God tells you He is going to put an end to the human race. Then you learn you are one of only eight people He plans to save.
It gets worse. He wants you to build a boat to start over. How crazy is that? Does He even know how old you are?
Will you obey? Read about the one man who did.
God was going to wipe out all of mankind. The future of the world was in one man's hands. Would he obey? Would you? Pls RT
Click To Tweet
Story of The Boat that Saved . . . 
Chapter 1 is "Life in Noah's Day" and includes some fascinating information I didn't know until I researched the topic.
The final chapter tells of "A New Earth" and really makes you think what a daunting task the Noah family faced as they stepped off that stuffy ark.
What was the first thing they did?
And what is the first thing you do when you face overwhelming circumstances?
I really enjoyed writing this book. Then I faced the task of looking for suitable pictures to illustrate the story. I was delighted to find ideal images and I know my readers will love them too.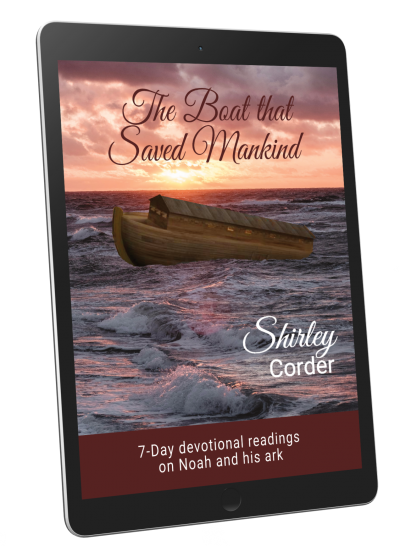 UPDATE: Get your copy of the ebook here: 
Series:
The Boat that Saved Mankind is the third in a growing series of 7- day devotional reading books.
Also available 
Other books by Shirley: Click here then select Published Work
Contact Shirley:
Would you like to be kept in touch through my newsletter? I promise never to share your email with anyone else, and you can unsubscribe at any time. I won't fill your inbox with spam, and you will only hear from me normally once a month unless I have extra-breaking news in which case it will just be a "postcard" to update you.
Email me: writetoinspire@shirleycorder.com