Question of the Week

The question to answer in the Welcome To My World challenge for this week is:
"What is your favourite type of scenery?"

I have to toss up between mountains and the sea. I have never grown tired of the journey into Cape Town from my home in Port Elizabeth. Within a few miles of P.E., the drive along the high-speed national road, (the N2) takes you past incredible mountain scenery. As you draw closer to the mother city, the mountains of the Western Cape tower on either side, the peaks often snow-covered for some time even after winter. They never cease to take my breath away. How mighty and wonderful is our God.

But then I have a passion for the sea. Not in it. Or on it. But looking at it. Looking over it. Wondering what is over there, on the other side. I love how, here in P.E., the mighty waves may crash on the shore, often leaving the beach denuded of sand. Then, a few weeks later, the tide seems to repent and returns the sand to cover the pebbles once more. Where does the sand go in the meantime? If I were a children's writer, that's a book I'd like to tackle.

The sea fascinates me with its ability to change from a tranquil massive body of water, gently lapping onto soft white sand, to a raging, angry, grey scene threatening all onlookers to keep their distance.

And that brings me to the topic of today's blog.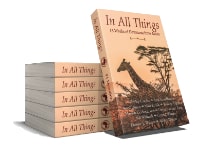 Scripture tells of a number of storms that changed the lives of many. As one of my two contributions to the compilation, In All Things, initially published in 2020 as a boxed set, and now available in paperback format, I decided to write about some of them.
Peace in Life's Storms ~ 7 Devotions from Biblical Storms
This book is a short seven-day devotional book, part of an ongoing series. In this small book, I offer reassurance and guidelines for finding peace as we face a multitude of storms today, including the dreadful COVID-19 pandemic.
Shirley Corder offers reassurance and guidelines for finding peace as we face a multitude of storms today, including the dreadful COVID-19 pandemic. Pls RT Click To Tweet
Story of Peace in Life's Storms . . . 
In turbulent times, there's always a place of peace, a starting point of healing through Christ.
In April 2020, our minister of health in South Africa announced on national television "the COVID storm is upon us." Even now, across the globe, this deadly virus seems to be intent on destroying our planet. Although this storm has not been caused by out-of-control weather, it is nevertheless wreaking havoc on a far wider scale than most weather-related storms.
In Scripture, we read of a number of storms that made such an impact we still remember them thousands of years later. Where it is normal to have calm after a storm, like when Jonah took a dive, we may also experience peace during the storm, like Job. There are also times when we experience calm before the storm, like when Jesus lay sleeping in the stern of a boat.
Whatever type of storm you face right now, God wants to grant you His peace. As you read this book, you will take a closer look at seven storms recorded in God's Word that will challenge and encourage you as you face your current challenges.
Question for you: 
What storm are you facing right now?
Share it as a comment, and I promise to pray for you.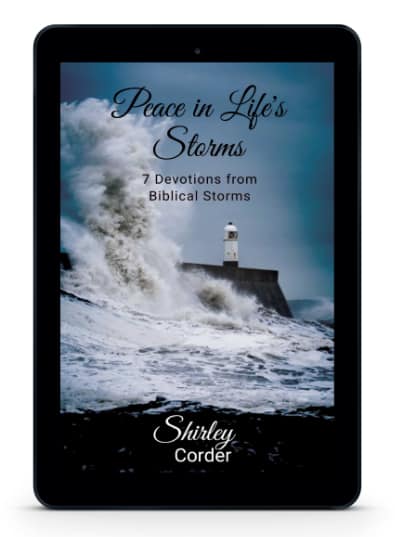 UPDATE: Get your copy of the ebook here: 
Series:
Peace in Life's Storms is the fourth in a growing series of 7- day devotional reading books.
Also available 
5: 7 African Animals – Coming in May
Other books by Shirley: Click here then select Published Work
Keep in Touch:
Would you like to be kept in touch through my newsletter? I promise never to share your email with anyone else, and you can unsubscribe at any time. I won't fill your inbox with spam, and you will only hear from me normally once a month unless I have extra-breaking news in which case it will just be a "postcard" to update you.
Email me: writetoinspire@shirleycorder.com
See other books on Amazon Author Page