It was so good sharing the experiences of the recent Kingdom Writers Conference (2022) with several of our CWOSA members. CWOSA stands for Christian Writers of Southern Africa. Yet, as you will see from the title, one of our members is Deryn van der Tang who used to live in Southern Africa, but has now settled in Washington DC. It was so good for the four of us to sit together in the Zoom meetings and share the things we were learning from the many fabulous speakers.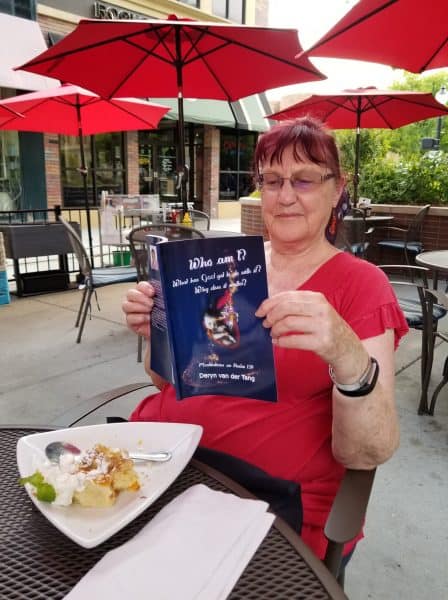 So join me today as we learn a bit of what Deryn gained from the conference.
Welcome to Deryn!
SC: Welcome back Deryn! good to have you on my blog once more. What would you say were the biggest lessons you learned from the conference?
D vd T: I had two main takeaways, although there were many. First was, 'You can't do this alone, but together we can achieve so much more. We are not in competition, but complete each other.' So, learning to work as teams, helping one another to achieve more by podcasting, guest blogging, and being generous stewards of the assets of the Kingdom.
Secondly, I learned to have a business meeting with God before making any decisions and ask Him for guidance and the next steps each time.
SC: Yes, that second one really struck home to me and I'm determined to get it as a regular feature in my life. (I've tried twice – and both times I failed to show up for the meeting! As one of our other CWOSA members remarked – I'll be fired!)
So, Deryn, what are your plans to put these two into action?
D vd T: I have a 'Minute book' next to me in which I now hold my meetings with God, asking Him what His heart is for my work, what is possible, and what I should do today.
SC: Oh brilliant.
D vd T: I have also approached one or two of the conference goers about doing guest blogs. I am noting various podcasters in my genre and will approach them in due course. I will also upgrade my welcome sequence when people sign up for my newsletter to give away more free stuff.
SC: Well done. And yes, I've already looked at my welcome sequence but I've hit some snags that need to be worked on.
Do you have any other plans for further collaboration with fellow writers?
D vd T: I will seek opportunities to join with others in Anthologies and books like Guideposts and Chicken Soup for the Soul. I am also inviting others to do guest blogs on my Blog. I also will join more Book launches to help other authors to market their books.
Looking to the Future
SC: Excellent. Now tell us more about your latest published book.
D vd T: My latest published book is "Who am I? What Has God got to Do with it? Why does it Matter?"
The purpose of this book is to open a space to help people connect with their Creator. So He can help them find their unique footprint and purpose in the world and to find healing as they begin to nurture that relationship. Life is messy, and there are no pat answers to many of life's questions. We look for spiritual wisdom and guidance when we need to make sense of our world.
I have illustrated the book using examples from my own life of how the deep insight and wisdom of Psalm 139 have guided me through some of the real-life situations I have encountered. There are guided questions to meditate on each verse, helping you to bring your questions to God.
SC: Deryn, how many others normally collaborate in publishing your books? Do you have outside cover designers, formatters, etc? Tell us a bit more.
D vd T: In my second book, I did pretty much as a one-man band, although I had the help of a cover designer and editor. In the book I am currently working on, I am using the services of a formatter, designer, and editor and feeling much more relaxed about it.
SC: Well done. Collaboration again! What are your plans for your next book? Can you tell us a little about the story/theme?
D vd T: Yes, I am hoping to get it out in time for Christmas. It is a book called "The Journey: Your Guide from Loss to the Land of New Dreams." Again, it is a Christian self-help book. I designed a map through significant life losses, as there are many types of loss. The first Section is more generalized. The second section is where all the hard work happens in the loss journey, mainly the loss of identity through divorce or widowhood, but does touch on other losses such as relocation and the second half of life. The third and fourth sections are about embracing your new life and skills, and the final section is about answering the call to adventure with God in your land of new dreams.
SC: This sounds like an exciting project. Is it part of a series? If so, what is the overarching theme that ties the books together?
D vd T: Although not a series, my themes are building faith and resilience through difficult circumstances. This is what I try to project throughout my writing.
SC: Thanks Deryn, that's a great approach. Is there any way we can pray for you?
Prayer Collaboration
D vd T: I would love you to pray that God will bring together the teams required for each of our endeavors as we try to bring about His Kingdom here on earth. In so doing, may we pray that He will be able to direct those who need to hear our message with our books, blogs or any other vehicle that will accelerate our reach.
SC: Sounds great, thank you. Readers, I encourage you to join me as I pray this with Deryn.
Finally, Deryn, where can our readers find you on the Web?
D vd T: They are welcome to visit my home on the Web which is at CROSSING MY BRIDGES LLC 
Or they can email me here.
SC: Thank you so much for your visit, Deryn. I look forward to our next get-together online!
P.S. You can read more about the book Deryn's reading here, in another interview I did with her during our Southern African COVID challenge!