[stextbox id='black']To stop the spread of the coronavirus
COVID-19

in South Africa, a National lock-down is currently in place. For more see: National Covid-19 website[/stextbox]

Some months ago, I decided to write a short book of devotional readings. I called it

I have used it in a number of newsletter promotions, giving it away for free, and I've been surprised by the number of folk who have downloaded the book. I also put it into print (on Amazon as well as locally) and again, it has sold well. In fact, I sold out the first run of 200 paperbacks within a few weeks.

A number of people remarked what a nice gift it made, and because it's tiny, people that don't normally read books of this nature read it and enjoyed it.

So I decided it was worth trying again.

It was nearly Mother's Day, so I decided to write another 7-day book for mothers, drawing my devotional readings from experience of my own mothering (and grandmothering) days.  Thank you family for being such an amazing source of material!

So I published it under the name of

Thanks to lockdown I haven't put this into print, but may well do so in the near future. What do you think? Do you think it will sell?

I was now on a roll with my 7-day books. They're fun to write, don't require too heavy a commitment in the research department, and I can sell them at a reasonable price.  Plus, they seem to be popular.

Soon up is Father's Day, and my intention was to write a 7-day book of devotional messages for fathers. Then I reasoned,  it's usually the women who buy the books, not the men. Especially a devotional book. So it needs to be one of interest to either sexes. And so, now publishing –

This is another 7-day book of devotional readings that tell the story of Noah and the ark. The first chapter is "Life in Noah's Day" and the final chapter tells of "A New Earth." I really enjoyed writing this, and then I faced the daunting task of looking for suitable pictures to illustrate the story. I was delighted to find ideal images and I know my readers will love them too.

And so, I'm off on a series . . .
7-day devotional readings.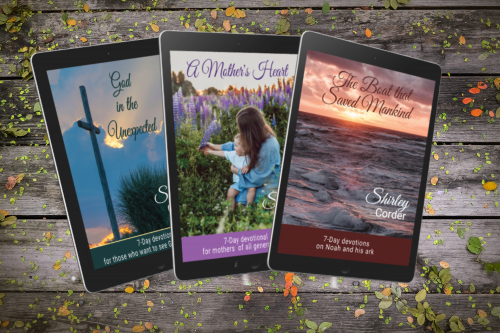 Storms and Christmas
Next in line, I'm looking at a 7-day devotional book on storms – Biblical and in our own lives. I'm sure you'll agree we all have plenty of those right now! I've also made a note of eight stories of Christmas in our family that I know will make for a fun read. I just have to decide which one NOT to write!
7-day African Boxed Set
I've got so excited about this 7-day series, that I've challenged my online writers' group of African writers, CWOSA, to contribute a book towards a boxed set. So later in the year, I hope to release a boxed set of 7-day devotional books based on or written in Africa. This is going to be a learning curve for me as I've never participated in a boxed set, never mind run one. But I'm looking forward to the adventure. More about that in another post!
[stextbox id='custom' color='ffffff' bgcolor='246685′ bgcolorto='246685′]I'm looking for a title for the African Boxed Set. The sub-title will bring in the 7-day idea. Any suggestions for a general title? Please leave a suggestion in the comment section.[/stextbox]
Other books by Shirley:
Click here then select Published Work
Contact Shirley:
Would you like to be kept in touch through my newsletter? I promise never to share your email with anyone else, and you can unsubscribe at any time. I won't fill your inbox with spam, and you will only hear from me normally once a month unless I have extra-breaking news in which case it will just be a "postcard" to update you.
Email me: writetoinspire@shirleycorder.com