7 African Animals Author Interview
Over the next three months, I'm going to be looking at the authors who compiled the thirteen one-week books that make up the boxed set, In All Things ~ 13 Weeks of Devotions from Africa. I plan to interview all the authors and give you some insight into the background to their books, the motivation behind the themes they chose, and their general experiences of the project. 
I'm starting with the first book in the box. This happens to be my own, 7 African Animals, and what they teach us about God. Because this is my book, I obviously won't do this in the form of an interview, but I'll try to cover the same issues.
7 African Animals:
What prompted me to choose this theme? I have a real love for Africa and a fascination with the way different animals, fauna, and flora, interact all by God's design. So I wanted to write a book about African animals, particularly searching for spiritual lessons in the process.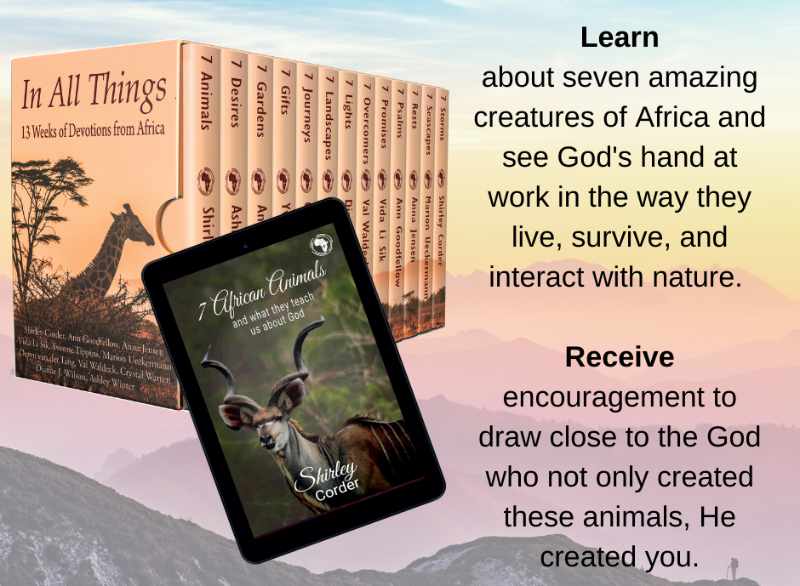 I am also blessed to live within an hour's drive of the famous Addo Elephant Park, and we have spent some amazing times driving through the dense African bush with our binoculars, watching for sightings of some of the splendid creatures, not to mention elephants.
When I had written about six African animals, I became stuck. I really wanted to write about another animal I hadn't covered before in my book,
God in Africa
, where I cover animals, fauna, and flora, but what? I kept sensing the Lord was prompting me to write about the hyena. Quite honestly, I didn't think there was anything good about hyenas. I couldn't imagine how I could get a spiritual lesson from them.
Yet, when I really delved into their habits, I found myself changing my attitude, and realized that these strange dog-like looking characters really do have a lesson we as Christians can learn. And of course, I'm not going to tell you! You'll have to read the book, which for a limited time is part of the boxed set,
In All Things
.
Short Video Clip about 7 African Animals
Here is a short video clip about 7 African Animals, just to whet your appetite:
This was my first experience working alongside a group of other authors on a project, and the fact that I was in charge made it more daunting. I honestly thought I would just collect 13 books and stick them in a box. HAH! Not exactly! It was a LOT of work – aggravated by my lack of knowledge in so many areas. However, the Lord blessed me with ten lovely, patient, eager-to-learn authors who were every bit as determined as I was to make this set a success—and to glorify God in the process.
Promotions:
One area where our "teamwork" excelled was in the many promotions we posted and shared over the weeks. I sent them each an e-reader image showing their book face on and another slanted. I also sent them a transparent (png) file of the boxed set. Then it was over to them. Each one took the offered images and created their own gorgeous promotions, which we all shared. I believe that was one of the main reasons why we earned an orange ribbon for coming #1 in Amazon for pre-ordered spiritual books before it was even released.

Launch Party 
The other area of excellence was the way we all pulled together over the
launch party
which lasted well over four hours. We divided the authors into pairs (and one group of three) and gave them each forty minutes. It was up to them to entertain, tell guests about their books, set puzzles, and share some African recipes. The latter proved to be particularly well-liked.
As a final cherry on the top of a wonderful day, one of our authors noticed something so exciting!

Yes, we had another orange ribbon! This time on the first day of the box's release. How awesome is that?
And before you go . . . .
If you could stop and eat something right this minute, what would your choice be? And why?
Enter your answer in a comment below.