Lockdown!
As the very strict lockdown imposed on South Africa was prolonged, I decided to suggest a 13-book project for some of the writers on my Christian Writers of Southern Africa Facebook group.
On the 10th July, eleven authors stepped to one side to work on what was to become an extremely fun, and at times very challenging, project. Over a period of 16 weeks, we tackled and produced a 13-book boxed set of daily devotions, all with a covering theme of Africa. 
See more on the details of this exciting set by clicking here.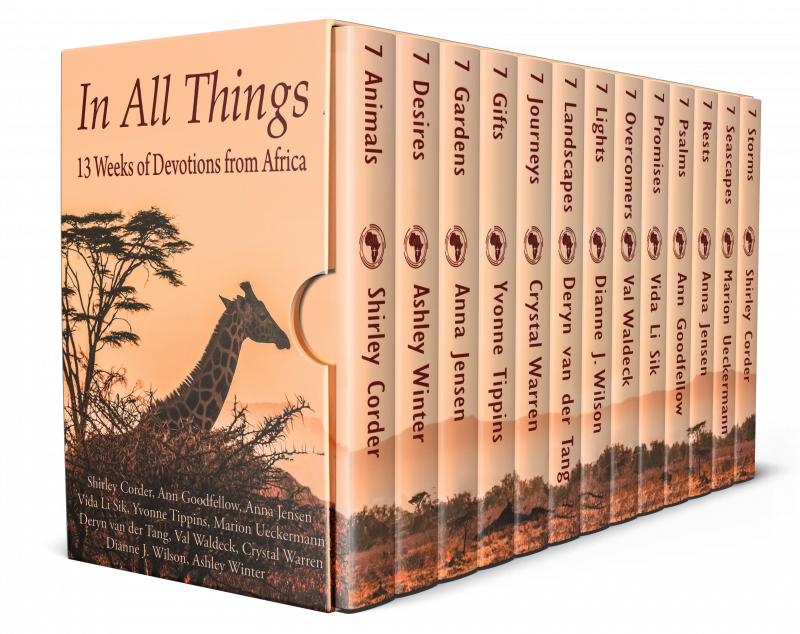 Now only available in paperback
You will see there is an amazing variety of different themes, and each seven-day section is presented in the author's unique style.
That was one of the many miracles involved
When I asked the authors to come up with a theme they would like to write on, within 24 hours I had a list of 11 very different topics! Anna Jensen and I add a second one each to the mix, and we had our 13. 
Why 13?
Because a 13-book set of seven devotions gives you a quarter-of-a-year of daily readings, 91 in all.
If you're on Facebook, or any other form of Social Media, please may I invite you to pass on the news? Nine of these authors live in South Africa. The other two are born-and-bred South Africans although now living abroad. And we're all members of CWOSA.
Each author was asked to not only write her book, but to stick to very precise guidelines, and see to her own proofreading, edits, etc, as well as provide the front cover. 
Different themes, different authors, different styles, different covers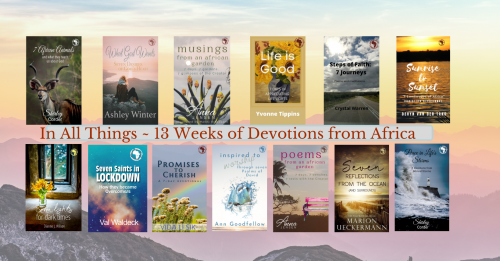 Don't they look stunning?
Each author was also asked to come up with a "spine title" so we could show it on the spines of the box set. When I did the box cover, I arranged these in alphabetical order.
So here they are with their full titles:
7 Animals (7 African Animals) – Shirley Corder
7 Desires (What God Wants) – Ashley Winters
7 Musings (Musings from an African garden) – Anna Jensen
7 Gifts (Life is Good) – Yvonne Tippins
7 Journeys (Steps of Faith) – Val Waldeck
7 Landscapes (Sunrise to Sunset) – Deryn van der Tang
7 Lights (Seven Lights for Dark Times) – Dianne J. Wilson
7 Overcomers (Seven Saints in Lockdown) – Val Waldeck
7 Promises (Promises to Cherish) – Vida Li Sik
7 Psalms (Inspired to Worship) – Ann Goodfellow
7 Poems (Poems from an African Garden) – Anna Jensen
7 Seascapes (Seven Reflections from the Ocean) – Marion Ueckermann
7 Storms (Peace in Life's Storms) – Shirley Corder.
[stextbox id='alert']Please leave a comment below. Which of these have you read? [/stextbox]
In All Things – 13 Weeks of Devotions from Africa. 
I have two books in this set. 7 Animals of Africa – and what they teach us about God. And Peace in Life's Storms – 7 Devotions from Biblical Storms. I will be writing about both of these when they become available for individual purchase.
On release day, we held a great launch party which you can read all about here. 
Within two days, the boxed set was awarded two orange ribbons! One the day before the launch, for the #1 Amazon seller of pre-ordered books in the Spiritual genre. And one the day after the launch, for the #1 Amazon seller of new releases, also in the Spiritual Genre.

BREAKING NEWS! In All Things is now only available in paperback.
Currently available from the authors in South Africa or on Amazon.com