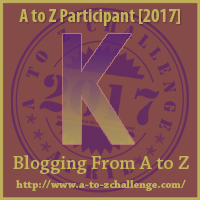 Disclosure: This post contains some affiliate links for your convenience. Click here to read my full disclosure policy.

I'm continuing with the A to Z Blogging Challenge and today we look at the letter K. To me, K can only stand for one thing, and that's
K is for Kindle. 
Before looking at the topic of writing for Kindle, I would like to make one observation. Before either of us owned a Kindle, a friend and I signed up for a Kindle account, and downloaded the Kindle app for our computers. We could then "buy" all the freebies that appealed to us, as well as a few other books which were on special and we didn't want to miss them. Some months later, we both received gifts of Kindle e-readers. Immediately we registered them, our entire library of e-books was available to us on our machines. Amazing! I have no idea how this works, but it does. So if you don't have a Kindle, don't miss out on the opportunity. Download the appropriate app today – Free!
Although, for me, K goes further.
K is for Kindle and KDP.
K is for Kindle and KDP. #atozchallenge. Have you published with them?
Click To Tweet
I love writing, and several years ago the main-line publishers, Revell/Baker published my book, Strength Renewed, Meditations for Your Journey through Breast Cancer. It was a great experience, and I grew tremendously as a writer as a result of the process. However, I also found a number of major problems.
Problems in traditional publication.
I had limited say-so over the cover (although I absolutely love the cover they did produce).

The title of the book was changed (from Rise and Soar over the Valley of Cancer) despite having a website titled Rise and Soar.

The interesting thing was that I feel their book cover suited my original title far more than it did their choice of Strength Renewed.What do you think? Rise and Soar? Or Strength Renewed?

I am not able to offer specials, giveaways, or free copies – unless I pay for them myself first. (They gave me a generous supply of free books and giveaways right at the beginning, but that was a few years ago and no longer applies.)
I have no control over the price. The e-books today cost more than the print copies! Why on earth?
There was a wait of three years between the book being accepted and finally coming out in print.
I got little or no warning when they ran specials on the book, which meant I wasn't able to muster enthusiasm for the special.
Because I live in South Africa, it took a trip to the USA to attend the Florida Writers' Conference for me to meet up with an editor who was interested in my book.
There is the need to write a polished Book Proposal and Query letter, and in most cases send this out again and again and again.

read more