Can it be true?
I don't know about you, but it seems unbelievable to me that another year has zipped past! Everyone I've spoken to has the same reaction. I've only just got used to writing 2022 and now I have to relearn!
I know a year ago, we all wished each other a Happy New Year! Has it been a happy year for you? For us, the months have zoomed past at such a rate it's not an easy question to answer. Yes, there have been some happy moments. And there have been some tough moments. But if I was to sum up the year with one word, I think I would say "stressed". It's been rush, rush, rush. Decisions, decisions, decisions.
Word for the year?
Often we choose a word for the year – but for 2022 I haven't yet chosen one! And now it's 2023.
In my Christian Writers Of Southern Africa group (CWOSA), we run daily themes, headed up by different authors. Our Tuesday theme covers Marketing Tips.
This Tuesday, Anna Jensen started our year off with the first of a series of seven devotional suggestions, one for each of the first seven Tuesdays. Today's post is based on the Scripture verse, "But seek first his kingdom and his righteousness, and all these things will be given to you as well" (Matthew 6:33 NIV).
Suddenly a light went on in my little brain. Instead of a word for this year, I'm going to have a Scripture verse.
The devotion emphasized that "all these things" include food, drink, clothing, shelter, etc." Well, I reckon the phrase also includes, "drafting, writing, editing, publishing, marketing . . ."  So for this year, my personal theme is going to be "Seek ye first the Kingdom!"  I'm excited by the idea, and I challenge you to follow me.
I have written the verse at the top of each page in my daily diary for the week and plan to follow it through the year. Each day—"Today, I 'll seek God first – and this is what I hope it will include for today." And wait to see what the Lord tells me.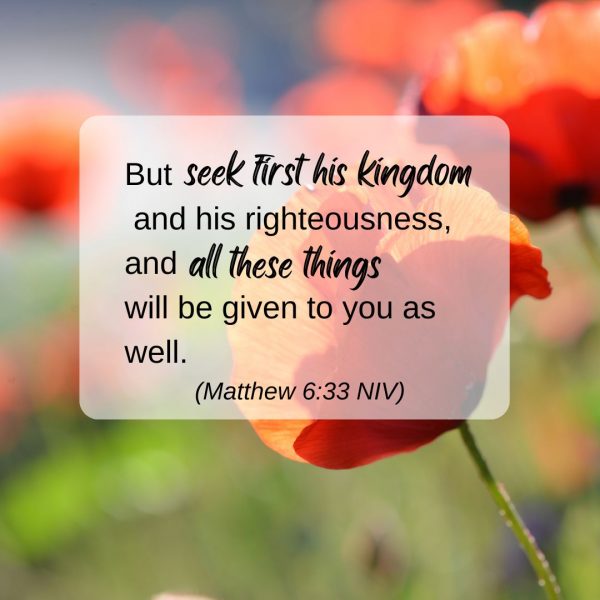 Today, I wrote in my diary, "Seek ye first the kingdom of God—and share this idea with my blog readers."
So here it is. Now over to you. If you seek God's Kingdom first today, what do you hope will come out of the day? I'd love you to share it in a comment below.
Seek God's Kingdom first today, and what do you expect to happen? Read this quick post and share your expectations.
Click To Tweet