Today is launch day!
Strength Renewed, Meditations for your Journey through Breast Cancer
is finally on the shelves in America.
Influence Copies arrive
I've also had several calls from people here in South Africa to say their influencer copies arrived today. How appropriate!
What about South Africa?
The books will only be released in South Africa in mid-November, but the amazing thing is, they're going to be in all major bookstores "across Southern Africa". Not just South Africa. Wow! Thank You Lord!
I also found out today that copies have been released on Kalahari.net–the South African equivalent of Amazon.com. So South Africans–you don't need to wait until mid-November if you don't want to!
Request for prayer
I ended my previous post on this series with a request that you prayed.
We had booked a hall for October 4 for a celebration of the book launch–but it was beginning to look as if there would be no copies of the books at the launch. I asked you to join me as I prayed for a miracle.
You prayed.
I prayed.
We didn't get one miracle. We got two!
The day after Rob and I arrived home from our time away, I collected the exciting parcel with my author copies.
Woohoo!
We thanked the Lord together for His goodness, then told Him we would really be delighted if the books for prizes also arrived before the 4th.
The very next day, I collected the book copies fom the post office!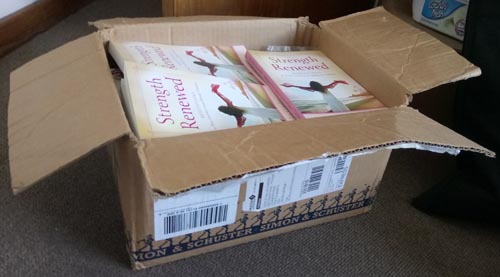 So I now have a table full of books for our book launch. Is God good or what?
Miracles continue
I told you this book had been a miracle from the start. Hopefully, having read through the story, you will agree with me. It has now ended as it began–with several miracles!
Obviously, if I sell any copies from the prize box, I will replace them when I get my local copies, but it means I won't run out on the evening. (That's in case the staff of Revell Publishers is reading this!)
Family encouragement
Today, our daughter, Debbie, and son-in-law, Craig, Skype-called me from Kazakhstan to congratulate me and wish me well with the launch. How fabulous to be able to talk to them from the other side of the globe!
Our youngest son, David, arrives tomorrow with daughter-in-law Pam and our two youngest grandchildren. They are flying in from Johannesburg in the early afternoon.
Stephen, our older son, arrives the next day with daughter-in-law Hannelie. What a wonderful time we will have together as we put finishing touches to "goody bags", and show one another our contributions.
The next day we will spend a good deal of the time arranging the chairs, tables, etc. What fun to do something like this together as a family. It is the first time we have done anything like this. (And no, I don't just mean a book launch! Just to have a project like this that we're all working together on. What fun!)
About the Book Launch:
We are expecting in the region of 80 guests on Thursday evening. I have two guys armed with cameras so hopefully by the end of the evening I'll have a good assortment of photos to share with you.
Thank you!
Thank you for making this journey with me. It's been exciting. It's been thrilling, and at times it's been plain scary! But we've made it. My baby, Rise and Soar, is all grown up and has a new name. But the message remains the same:
"Those who wait upon the Lord shall renew their strength. They shall mount up on wings as eagles."
I think I can finally say, "The eagle has landed!"
ADDED LATER:
The Lord put the cherry on the top! The South African book stores had Strength Renewed on the shelves a full month before their own schedule, but in time for the book launch! Isn't God wonderful? 
You can preview the first chapters of this book, or purchase it direct from this page. Click on the relevant tabs below the image.
If you enjoy the book, I'd love it if you'd leave a book review on Amazon, Goodreads, or anywhere that stocks the book. Thank you!