Introduction to what the Boxed Set was all about

What a Launch Day Party!
Wow! What an incredible time we had at our launch day party on Saturday to release In All Things to the world.
We had a total of 743 people participating in a hectic fun time. The activities at the launch day party ranged from jigsaws to word puzzles, to testimonies about incredible events, and included stories and videos about our books. Fabulous prizes and giveaways were the order of the day, and the GRAND PRIZE was a fabulous cherry on the top.
743 people at a four-hour launch party! Read all about it! Click To Tweet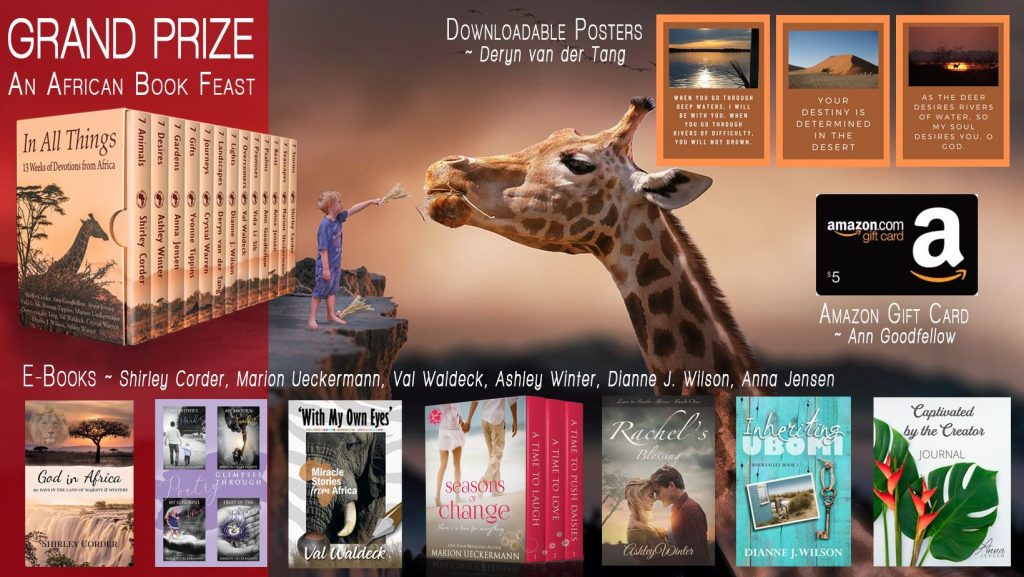 It was especially exciting to me when this grand prize went to a very deserving winner who happens to be a dear friend of mine and a fellow South African – Jen Erasmus. (And no, I had nothing to do with the choice of winner! She earned it – no 'luck' involved.)
Very exciting news!
This boxed set has been awarded an "orange ribbon" twice! First when it was 1st in the spiritual pre-order section – and then after the party, it again reached 1st in the top spiritual book in the new releases.
Two orange ribbons for this exciting set of devotional readings! Click To Tweet
Fantastic team!
I have to give such thanks to the fabulous team of authors. We got on so well together, and I think we're all thrilled with the results. So if you haven't got it yet, don't hesitate! It is a LIMITED EDITION – and right now it is available at the ridiculous price of $0.99 for all thirteen book – 3 months of daily devotions all relating to Africa, and written by authors of Africa.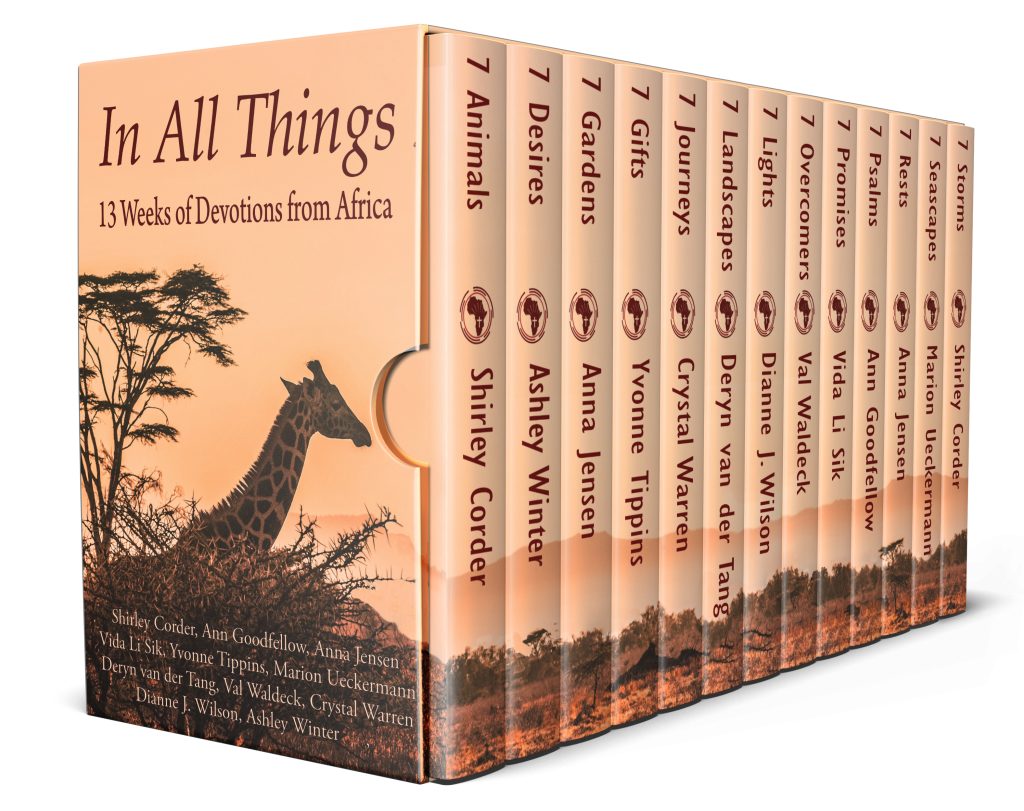 https://books2read.com/InAllThings
Over the next weeks, I plan to feature one author a week, interviewing them so they can share with you what their particular book is about, as well as something of their own experiences. I hope to post one each Friday, starting from next week, so keep your eyes open – and please do comment on each one. That is so encouraging to the authors concerned, and to me as well!
Come back next Friday (November 6) – for more about 7 Animals of Africa – and what they teach us about God. Don't miss this.
[stextbox id='info']While I'm still in the party mood, how about a quick game? In the comment section, Post your first name, your location, and describe one food you love, using only one word – that begins with the same letter as your first name[/stextbox]