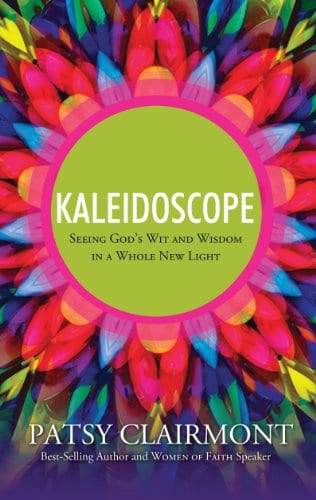 What is a kaleidoscope?
Patsy Clairmont describes a kaleidoscope as "a simple tube of mirrors filled with pebbles or beads". As we hold it up to the light and peer through the pinhole at the end, we see amazing colours and designs we didn't know existed.
Patsy likens the book of Proverbs to a spiritual kaleidoscope. As we peer at the seemingly random statements that make up this book, Patsy helps us see "God's wit and wisdom in a whole new light."
The book:
In each of the thirty-three short chapters, she zeroes in on one proverb. She then spins it and looks at it from different refreshing angles. Her delightful brand of humour seasons the message of the proverb with stories from her own life and I found myself chuckling as I read.
Each chapter ends with Bits and Pieces, a number of soul-searching questions to get you to dig deeper and apply the proverb to your own life. Held to the Light offers a kaleidoscope of varied Scripture verses that connect loosely with the proverb. Written in a conversational tone, you could easily read this book in a day or two. However, I used it along with my daily devotions which meant I savoured it over a longer period.
Disclosure of Material Connection:
I received this book free from Thomas Nelson Publishers as part of their BookSneeze.com  book review bloggers program. I was not required to write a positive review. The opinions I have expressed are my own. I am disclosing this in accordance with the Federal Trade Commission's 16 CFR, Part 255: "Guides Concerning the Use of Endorsements and Testimonials in Advertising."