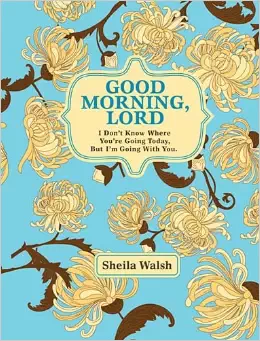 This book can best be summarized by the words on the back cover: "Delightful and insightful, Sheila Walsh shares life-learned trust that says, 'I don't know where you're going today, Lord, but I'm going with you!'"
This book contains over 100 morning devotional readings. Each begins with the words, "Good morning, Lord! Today help me to . . . " The message that follows combines personal anecdotes with Scriptural insight.
The author follows the story section with questions designed to get you to think deeply about your own life and apply the message you've just read. Some of these are tough questions, with no yes/no answers. Space is provided for readers to journal their answers. Sheila ends each message with a short prayer, and a verse or two of Scripture.
As a devotional writer myself, I have a high standard for such books. The readings have more depth than is often the case in devotional books. The questions caused me to dig deep, and gave me substance for reflective prayer. I found the questions more challenging than normal, which I liked. I also appreciated the Scripture coming at the end of the meditation, confirming the truths I had just read.
Although the readings are mostly suitable for men and women alike, the appearance of the book limits it to women. I would recommend this book as a gift, particularly to women going through difficult times. On the back cover, Sheila promises to jump-start your day with a God-sized adventure, and that is what she does in this attractive, hard-covered book. The unusual glossy hardcover with an embossed finish makes this book a lovely gift for the woman who likes to think about what she is reading.
Disclosure of Material Connection: I received this book free from the publisher through the BookSneeze.com book review bloggers program. I was not required to write a positive review. The opinions I have expressed are my own. I am disclosing this in accordance with the Federal Trade Commission's 16 CFR, Part 255: "Guides Concerning the Use of Endorsements and Testimonials in Advertising."