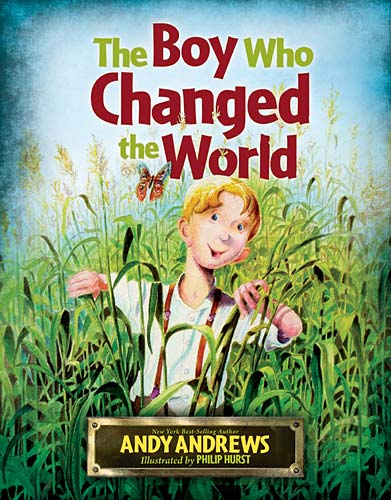 This beautifully illustrated book is one of these children's books which will also inspire and entertain the adult reader. The message revealed through this engaging tale is that every choice you make, whether good or bad, can make a difference. It illustrates the so-called butterfly effect in a way that even the youngest child will understand, yet will also engage the adult reader.
Andrews weaves together the stories of four little boys who each grew up wanting to make a difference to the world. Norman Borlaug, Henry Wallace, George Washington Carver and Moses Carver each played a key role in developing a special food that ultimately helped feed two billion people.
Each of the four stories is well told and the way each character influenced the other is clearly demonstrated. Instead of working forward chronologically, Andrews works backward, and the adult reading the story to a child may have to point out the significance of the names. Otherwise, an excellent book with a clear Christian message. I give it 4 out of 5 and look forward to passing it on to my grandchildren whom I know will love it.
Disclosure of Material Connection: I received this book free from the publisher through theBookSneeze.com book review bloggers program. I was not required to write a positive review. The opinions I have expressed are my own. I am disclosing this in accordance with the Federal Trade Commission's 16 CFR, Part 255: "Guides Concerning the Use of Endorsements and Testimonials in Advertising."