[stextbox id='black']To stop the spread of the coronavirus
COVID-19

in South Africa, a National lock-down is currently in place. For more see: National Covid-19 website[/stextbox]
About God in the Unexpected
Colossians 3:11 tells us that God is "over all and through all and in all."
It is easy to see Him in the birth of a new baby, the glories of
a magnificent garden, or the joy of a wedding ceremony.
But what of the times when we don't notice him? The difficult times?
The occasions when we don't expect Him to show up?
In these seven devotional readings, Shirley Corder encourages you
to look for God in unexpected places.
There are times it's easy to see God at work. Other times? Not so easy. God in the Unexpected tells of 7 places you wouldn't expect to find God.
Click To Tweet
Places such as
 the technology that has so much influence over our lives today

 the dark prisons of life

 the cold place of a cancer diagnosis

 and more.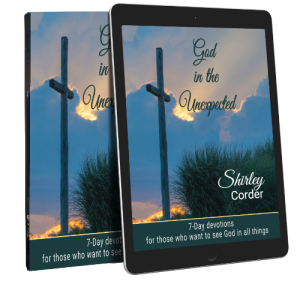 Get your copy of the book, either a paperback or an e-reader here:
ALTERNATIVELY: If you would you like to keep in touch through my newsletter, you can subscribe here and get this book as a thank you gift.
Series:
God in the Unexpected is the first in a growing series of 7- day devotional reading books.
Also available 
Other books by Shirley: Click here then select Published Work
Email me: writetoinspire@shirleycorder.com