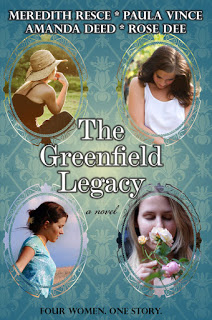 Mattie was in love with Billy, but she was too young to wed. When Billy was conscripted to fight in Vietnam, they made a decision that affected their lives and their future. But so much pain resulted that Mattie never really healed. Every turn Mattie made affected her daughter and her granddaughter in ways she didn't even realise. But forty-six years later, is it time for things to be set right?
Navy is a young woman who has never known her family. But what could be a wonderful opportunity is met with jealousy and apprehension from her cousin Brooke and her aunt Connie, especially with handsome Aidan around. Each must look past their struggles and find forgiveness and trust and perhaps even love.
This absorbing family drama, set in South Australia's beautiful McLaren Vale wine region, is written by four of Australia's outstanding Christian fiction authors who have brought you best-selling and award-winning novels.
My Review
This is an unusual book for two reasons. It has been written by four authors, and it has four main characters. Each character is written by one of the authors, and the four stories are brought together in a skilful way. The story is clever and clearly shows the impact one foolish decision can have on future generations. A harsh, judgemental father triggers turmoil that disrupts the lives of four women and their families. The story reveals the hardship and bitterness than can occur as a result of unforgiveness and family secrets.
It is almost like reading four novellas interwoven to make one story. I found this book difficult to get into as the story jumped back and forward between the characters, and I battled to figure out who the characters were and how they related to one another. Once I discovered the Character List at the end of the book, I found it easier to follow. As the characters developed in my mind, I began to relax and enjoy the story. Being from South Africa, I appreciated the Australian descriptions and context, and I wondered how often the same story occurs undiscovered in our own country.
I would definitely recommend this book for an intriguing read although I would like readers to know about the Character List before they started reading. Thank you, ladies, for a brave idea cleverly implemented.
About the Authors
ROSE DEE was born in Ingham, North Queensland, Australia. Her childhood experiences growing up in a small beach community would later provide inspiration for her first novel. Rose, who holds a Bachelor of Arts Degree, decided to try her hand at writing two years ago. The result of that attempt is her first novel, 'Back to Resolution'. Her novels are inspired by the love of her coastal home and desire to produce exciting and contemporary stories of faith for women. 'Beyond Resolution', and 'A New Resolution' are the second and third books in the 'Resolution' series. Rose resides in Mackay, North Queensland with her husband, young son, and mischievous pup, Noodle.
South Australian Author, MEREDITH RESCE, has been writing since 1991, and has had books in the Australian market since 1997. Following the Australian success of her "Heart of Green Valley" series, an English Publisher has taken the first three books in this series, and has released them to the British and American markets. 'The Greenfield Legacy' is her 15th novel published. Apart from writing, Meredith also takes the opportunity to speak to groups on issues relevant to relationships and emotional and spiritual growth. Meredith has also been co-writer and co-producer in the 2007 feature film production, "Twin Rivers". With her husband, Nick, Meredith has worked in the ministry since 1983. Meredith and Nick have one daughter and two sons.
Award winning Australian author, PAULA VINCE, loves to evoke tears and laughter through writing fiction. She has a passion to provide inspiring stories that highlight her own beautiful country.
AMANDA DEED grew up in the South Eastern suburbs of Melbourne in a Christian home, and found faith at an early age. She has followed her passion to serve the Lord through music and literature since her teen years. Now married, with three children, Amanda enjoys the variety of being a mother, finance administrator, musician and historical romance writer. Her debut novel, The Game, won the 2010 CALEB Prize for fiction, and Ellenvale Gold was a finalist for the same prize in 2012.