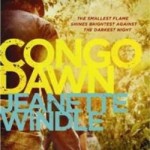 Author Jeanette Windle grew up as the daughter of missionaries in the rural villages, jungles, and mountains of Colombia, now a hot-bed of hostility and political unrest. She is therefore the ideal author for a suspense thriller like Congo Dawn, with its international intrigue, corruption, and unforgiving brutality.
When former Marine lieutenant Robin Duncan arrives in a Congolese rain-forest as an international interpreter, she meets up with Michael Stewart, the man who broke her heart years before. She blames him—-and God–for the death of her only brother, and is not sure she can ever forgive either of them.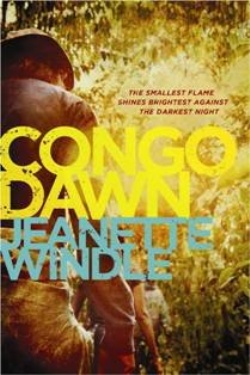 Robin is part of a team whose mission is to track down an insurgent killer known as Jini—"The Ghost," so called because he appears and disappears at will. The story-line is complex and extremely well thought out. Although I anticipated some of the story-line, much of it kept me guessing until the end.
The characters, as always with Jeanette's books, are so real you begin to feel as if you know them personally. I developed a gripping terror of the mercenary soldiers, a concern for Robin's safety, and at times a desire to stop her in her tracks as she deliberately headed into danger which I knew would get her into trouble with her team leader.
Congo Dawn is not a light, easy-read, bedtime story. I have lived most of my life in Africa, and found Jeanette's descriptions both vivid and realistic. I could see the terror on the faces and smell the smoke and dust of the brutal massacres and attacks on innocent people. I recoiled against the corruption and greed of those for whom human-life is cheap, and I was challenged by the rich faith in some who have nothing in the eyes of the world.
This gripping story moves beyond the Africa of the travel brochures and reveals the horrors that all too frequently occur in some areas of "The Dark Continent" and elsewhere.
** I received this novel in exchange for an honest and unbiased review. My opinion was not affected in any way.
As the daughter of missionary parents, award-winning author and journalist Jeanette Windle grew up in the rural villages, jungles, and mountains of Colombia, now guerrilla hot zones. Her detailed research and writing are so realistic that it has prompted government agencies to question her to determine if she has received classified information.
Currently based in Lancaster, PA, Jeanette has lived in six countries and traveled in more than thirty on five continents. Those experiences have birthed 16 international intrigue titles, including bestselling Tyndale House Publishers release Veiled Freedom, a 2010 ECPA Christian Book Award and Christy Award finalist and sequel Freedom's Stand, a 2012 ECPA Christian Book Award and Carol Award finalist and 2011 Golden Scroll Novel of the Year finalist. Jeanette mentors developing nation writers in both English and Spanish on all five continents. Visit her at her website.