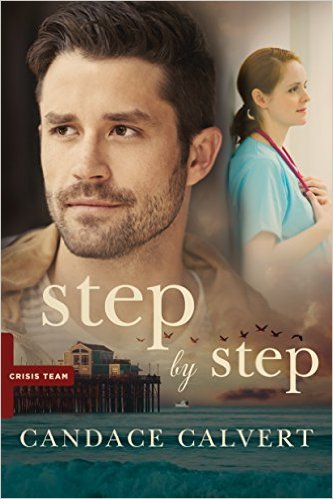 Step by Step is the second book in Candace Calvert's Crisis Team series.
ER nurse Taylor Cabot is anxious to move on in her life, following the tragic death of her husband three years ago. She has created a "Survival List" and is working through the various items step by step. Her final point is "Fall in love again", and the story begins as she is about to do just that: fall for a handsome but controlling plastic surgeon.
Then crisis chaplain Seth Donovan, who supported her through the grief process following her husband's death, comes back into her life. She sees him as her best friend and is grateful for a chance to reconnect with him.
As a result of a horrific car accident, hidden facts and strong emotions flare up, threatening to destroy all Taylor has gone through while following her Survival List. She leans on her beloved dog, Hooper, for support and when he too seems to be leaving her, Taylor falls apart.
Not only does there seem little hope for her ever achieving the final item on her list, "Fall in love again", many other successfully completed points seem to fall away as well.
As an RN myself, I love Candace's books. I enjoy reading about the medical stress of ER and how it impacts the personal lives of the main characters. In Step by Step, the characters are so believable I nearly wept for Taylor, became furious with the plastic surgeon, and wanted to shake Seth Donovan! The plot was believable and gripping, and I read it within two days.
I did feel there was too much said about the points of crisis counseling, and at times I found myself speed-reading over the teaching which I felt slowed the story down. I wanted to get back to my main characters and what was happening outside the classroom. Regardless of this, I am still awarding this book a 5-star, and I look forward to the next in the series. At time of writing, this book is currently available for pre-order here.
I received a free advanced digital copy of this novel from Tyndale publishers in exchange for my unbiased opinion. Thank you to them and to Net-Galley for making it available.

Do you enjoy novels with a medical flavor? Have you read any of Candace Calvert's other novels? Please leave a comment below.