Last post I shared with you how ten authors of Christian Writers of Southern Africa, (CWOSA), took up my challenge to create a boxed set of 13  devotional books. 
I now have very exciting news to share! 'In All Things – 13 devotions from Africa' reached #1 on Amazon in the New Releases: Spiritual Devotions category. What an exciting moment to see our boxed set boasting its little orange ribbon.

We know it won't stay there, but just getting there at all is very exciting! If you have not already pre-ordered your copy, do so today at https://books2read.com/InAllThings and help us keep our spot! Still only $0.99.
n All Things – 13 Weeks of Devotions from Africa
13 short books for the princely sum of $0.99!!! Amazing value.
Click the button if you're interested in ordering. The boxed set is newly released TODAY!
Recap about the Set
Authors:
It comprises 13 x 7-day books written by 11 authors. 9 of the authors currently live in South Africa. Two others are born-and-bred in South Africa although they now live abroad. And we're all members of CWOSA.
Books: 
Different themes, different styles, different covers . . .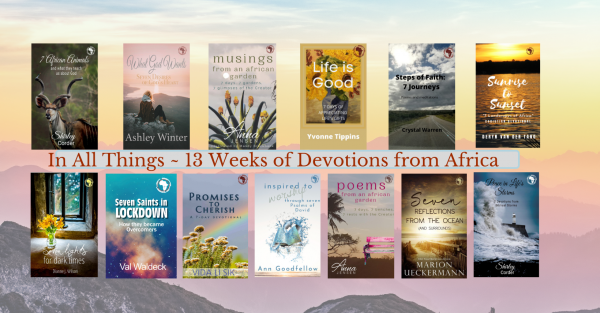 Don't they look stunning?
Here are the titles that show on the spines, together with their full titles and the authors.
7 Animals (7 African Animals and What They Teach us About God) – Shirley Corder
7 Desires (What God Wants) – Ashley Winters
7 Musings (Musings from an African Garden) – Anna Jensen
7 Gifts (Life is Good) – Yvonne Tippins
7 Journeys (Steps of Faith) – Crystal Warren
7 Landscapes (Sunrise to Sunset) – Deryn van der Tang
7 Lights (Seven Lights for Dark Times) – Dianne J. Wilson
7 Overcomers (Seven Saints in Lockdown) – Val Waldeck
7 Promises (Promises to Cherish) – Vida Li Sik
7 Psalms (Inspired to Worship) – Ann Goodfellow
7 Poems (Poems from an African Garden) – Anna Jensen
7 Seascapes (Seven Reflections from the Ocean(and Surrounds)) – Marion Ueckermann
7 Storms (Peace in Life's Storms) – Shirley Corder.
So – once again – available NOW on pre-order. 
In All Things – 13 Weeks of Devotions from Africa.

In All Things - 13 Weeks of Devotions from Africa. https://books2read.com/InAllThings Click To Tweet
And now for more exciting news!
We are hosting a Virtual LAUNCH PARTY  . . . and YOU are invited!
We are hosting a Virtual LAUNCH PARTY . . . and YOU are invited! https:/www.facebook.com/groups/532950427456346 Click To Tweet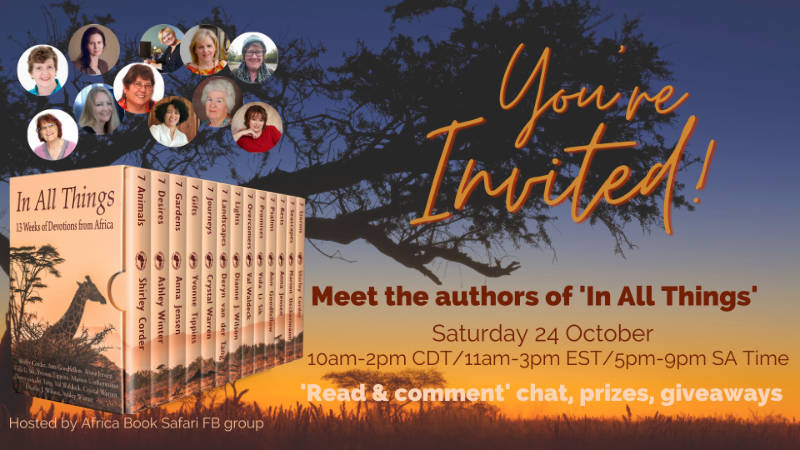 How does a Virtual Party work?
Firstly, make sure you've joined the Africa Book Safari FB group by clicking on the link. 
 When you're on the group, simply click on EVENTS to let us know you're coming. Or you can click on this link wherever you are and it will take you directly to the launch party. https://fb.me/e/1YGSB5Fl5 

On the day of the party, come back to the Africa Book Safari group armed with your best typing fingers ready to read all our posts and interact at the launch party through comments. No Zoom or video calling needed!
Can't wait to 'see' you.
24th October
5 pm – 9 pm S.A. Time
11 am  – 3 pm EST
10 am – 2 pm CDT
To cater for our friends in the Far East and Australia and New Zealand, the posts and competitions will remain open for 24 hours. So although you will not be able to join in the fun, you can still read the posts and enter for the prizes.
Your side of the launch party:
All you need do is come along and enjoy the fun.

Bring your fast-fingers. Typing is definitely easier on a keyboard as against a cellphone, although you can still attend that way.

Meet the authors 

Enjoy the goodies on offer

and hope to go home with some free books!
Our side of the launch party:
We will be posting something fresh every 10 minutes.  – We suggest you refresh your screen every 10 minutes so you don't miss posts

Every 40 minutes a different team of authors will take over as your hostesses

They will tell you about their books

offer prizes

pose a question/set a puzzle  –  clues will all be on their covers (which will be on show)

offer virtual snacks and drinks

and share some recipes for scrumptious African treats.
I hope to see you ALL there – and I'll be holding thumbs lots of you go home with a prize!   
(P.S. Hint – bring some physical snacks and something to drink so you don't have to tear yourself away from the party to nourish your body!)