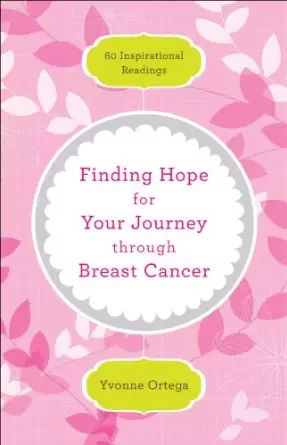 Cancer isn't the last word. Hope is.
This is what Yvonne Ortega believes, and she should know. Finding Hope for Your Journey through Breast Cancer is the 2nd edition of her excellent book of inspirational readings for those caught up in the cancer journey.
In Finding Hope for Your Journey through Breast Cancer, Yvonne Ortega offers to walk alongside you with encouragement and compassion gleaned from God's Word. She reminds you that even when it looks like you are alone, God is there every step of the way.
When cancer strikes, and you or those near to you face the roller coaster of treatment and side-effects, you will find encouragement and inspiration through the words of this book.
Each short chapter contains Scripture and a devotional message based on personal experience. Yvonne speaks from the heart, sharing her real feelings and reactions in a way that will cause you to say, "She understands."
As a cancer survivor myself, I wish this book had been around when I needed it. Well done Yvonne! Thank you for allowing me to share a little of the journey with you.
The book is available through Amazon.com, Christianbook.com or your local bookseller. Or you can order an autographed copy fromYvonne's website today.