On 10th. March 2004, a new cyber baby was born: CWG S.Africa. On 15th May 2011, the name was changed to Christian Writers of South Africa (CWOSA for short – pronounced QUO, as in quota, – zuh).
As South African writers we have many problems and challenges unique to us, hence the need for a group such as this.
The group's goal?
To be a source of support, information, online fellowship, encouragement, and learning. We started with four writers but soon started to grow. We were over 80 members when we decided to stop using emails and get our own Facebook page.  This is a private group and can only be read by members.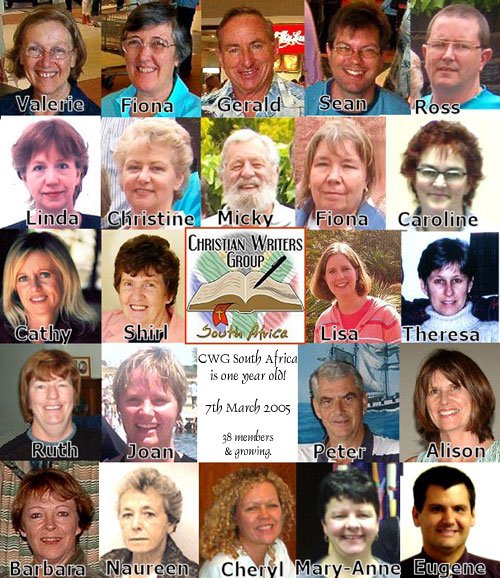 Some of our first members:
Here is a collage of some of our first members, many of whom are still with us today. > > > 
Val (top left) and Sean (2nd from the right at the top) now live in England.
Linda (1st left, 2nd row) is now in New Zealand.
Lisa (in the red top next to the logo) is my co-moderator and now lives in Mozambique.
As an online group we
* share our writing joys and frustrations
* tell one another about our successes and rejections
* ask questions and share opinions
* set goals and report back how we've done
* sometimes discuss TOTWs (Topics of the Week)
* hold occasional workshops
* form mini-support groups for special writing events, such as NaNoWriMo
* once wrote a hilarious novel by tossing the writing ball back and forward. No self-respecting editor would ever look at it, but it was fun!
* contributed devotions to the Winners at Work devotional book in 2008/2009 and again in 2012.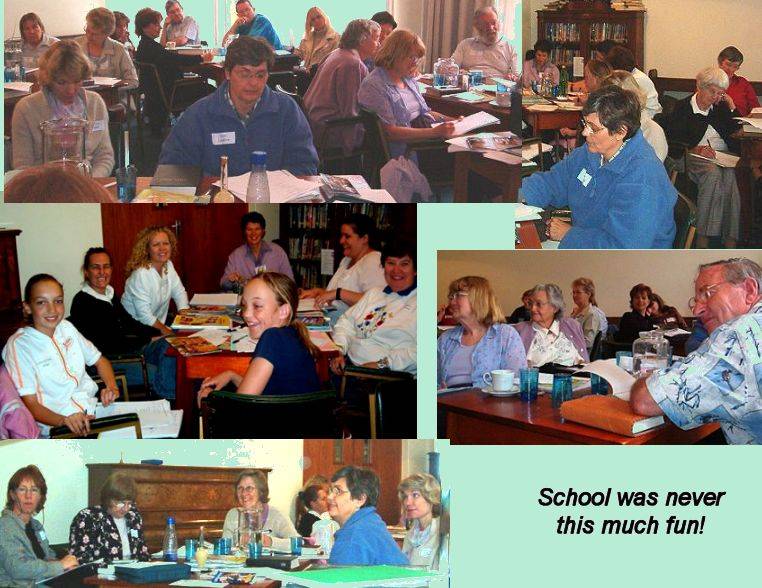 Writing Seminar:
In October 2004, we held an all-day writing seminar in Cape Town.
Mary Lou Redding, Senior Editor of The Upper Room all the way from Tennessee was our speaker.
This was a real learning curve for Linda Bennett and myself as we sought to draw together writers and wanna-be-writers from around Cape Town. Following this, the question has often been raised,"Why can't we have a full-scale Christian Writers' Conference here in South Africa?"
It's an interesting concept, and I've looked into it a few times. Unfortunately, it's not as simple as it sounds.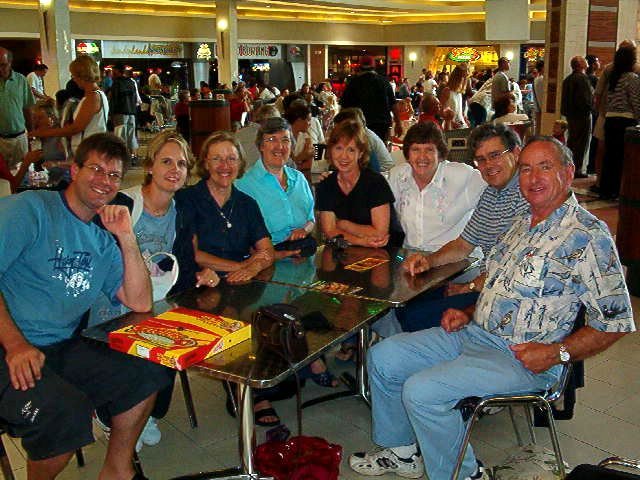 End of Year Celebration:
Between Christmas and New Year, some of the Capetonians got together for an end-of-year meal.
It's good we did it when we could. Not long after this photo was taken, Sean Young (extreme left), who has since become the author of the best-selling novel, Violent Sands, left for the UK, and Val Thompson(navy top 3rd from the left) emigrated there a year or so later.
Linda Bennett (black top, next to me in the white top) is firmly settled in New Zealand. So our group is spreading across the globe. Gerald (extreme right) sadly passed away during 2015.
Activities:
As a group, we have some good times of learning and sharing. Best of all is the encouragement we receive from one another.
We have shared in the excitement as people have grown in their writing. Members have submitted where they haven't before. Some new writers have had articles accepted for publication, and many books have been published. A new opportunity has arisen since the start of the group and a number of e-Books have been published. One of our members, Lisa Harris (co-moderator) won the coveted Christy Award in 2014 and has been runner-up a few times.
If you are a Christian writer, or even a "wannabe" writer, and live in Southern Africa, we'd love you to join us. Perhaps you are from overseas, and you want to publish in South Africa. You'll find there are many differences. In fact, do you know how to spell and punctuate the South African way? Come and join us and we'll put you in touch with the right people. This group is also open to South Africans living abroad, and oh yes! Most important. There's no charge for membership.