This week's question
on the blogging challenge, Welcome to My World, is What does the word WATER make you think of?
My immediate thought was how I take my glass of fresh water next to the bed each night for granted. I should know better.
As a South African, the word WATER means many things.  Our country revolves around the topic.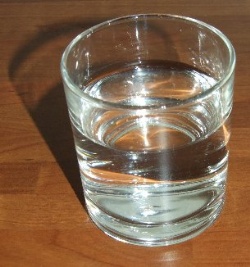 Here in the Eastern Cape, where I live, it is one of our greatest crises as we experience one of the worst droughts in many years. My husband and I are fortunate, in that we live in a suburb supplied by a dam that is not yet dry, despite little rain in the catchment areas.
Yet, over on the other side of the city, there have been several days over the past year where people have had to collect water from water tankers parked in nearby parking lots as the taps (faucets) have run dry. This is often caused, not only by low levels in the dams but because of poor maintenance to the pipes. This causes them to burst, allowing the precious liquid to drain into the surrounding thirsty land.
Even then, us city dwellers are amongst the fortunate. Only a matter of miles from where we live, there are people who have to walk miles every day to fetch water from dirty rivers. Yet I can enjoy a glass of fresh water next to my bed every night. 
Note to self! Be more grateful in the future!
Moving on to the topic of this post:
I am currently re-writing a novel that I first wrote eighteen years ago! At that time, it was my first attempt at a full-length story, and my plot was weak. This, of course, resulted in a story which, although I think it is entertaining in parts, waffles somewhat aimlessly in most places, and arrives at the end with little sense of resolution.
So now I'm rewriting. This time, I am excited about the storyline. It involves a family in ministry (based on the teaching I had at the popular idea – "Write what you know!"). They are nothing like our family, but it was fun developing the characters. I started my rewrite during NaNoWriMo, the annual writing challenge where you tackle a 50,000 word book in a month. You do not have to finish the book–just write 50,000 words. I completed the challenge, but I still have a way to go.
I have just signed up for Camp NaNoWriMo in April. For this virtual camp, you set your own goal, and it can be a new work or an editing task. I aim to complete the novel's draft during this period. You also get to "share a tent" with your friends or writing companions. How about you? Are you interested in joining me in my tent this April?
Here is the draft plot for the novel:
Marcia, a gifted artist who marries a man who is a student for the ministry, looks forward to being in ministry with him, as long as she can continue to paint. During their first years of marriage, Marcia is a stay-at-home mom of her growing brood. Whenever she has the chance, she dabbles with her pencil, looking forward to the day when the children are old enough, and she can devote herself to her art once more.
Then comes a move that changes everything. The new congregation has a clear role mapped out for their new pastor's wife—a role she has no desire to fill. The problem is Owen, the minister, has his own ideas. And Marcia doesn't like them. Not one bit. Eventually, matters came to a head, and Marcia takes off on an unannounced sabbatical, leaving Owen with the children and the congregation to figure out what has gone wrong.
Will Marcia be able to return to her pastor husband? Does their marriage, and the ministry stand a chance? You'll have to read the novel to find out. (And I need to write it!)
Looking at the novel's immediate future:
Over the next few weeks, I'm planning to share some insight into the various characters in this light-hearted story with some underlying lessons for us all. The Runaway Minister's Wife is a temporary title. I'd love your suggestions.
Question for You:
What would be a great title for this novel?

Please leave your suggestion in the comment box. If you come up with the winning title, I will send you a free copy of one of my Out of the Shadow books – your choice. Don't suggest The Runaway Pastor's Wife, which I absolutely love, and it's perfect for the story. Sadly, it's already taken!
If you don't have any suggestions, please comment on the story outline. Do you have any questions for me?