Question of the Week on Welcome to My World blog challenge is:

What book (paperback or ebook) would you recommend to your readers this week?

In view of Mother's Day being just around the corner, it seems obvious that my answer needs to be something for Mom. And I have some really lovely books to suggest. Some written by me. Others written by friends. Many … written by awesome authors.

So in answer to the question, I'm going to suggest a new boxed set I've compiled especially for mothers.

To Mother with Love is a selection of three devotional books especially for that person you call Mom. (Or if that's you, then treat yourself!)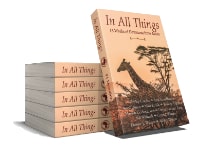 Some of you will remember the boxed set of devotions written by authors of Africa which was recently discontinued. The good news of course is that it is still available in paperback format. Click here to take a look. (If you live in S.Africa, you definitely don't want to pay shipping from the States or UK, so contact me direct at shirley@writetoinspire.com. I have a supply available.)
Creating the cover for the boxed set was a learning curve for me. I had never done this before, and of course, I had to start with thirteen books! However, I was so chuffed (for you foreigners out there, that means very pleased) with the results that I decided to do more.
I had signed up for a Mother's Day promotion with lots of wonderful books, and so I decided, instead of individually listing my three books that are especially relevant for moms, I would make them into a boxed set.
Included in the Mother's Day set are three books:
Eve ~ Mother of All
and
Naomi ~ Beloved Mother-in-law.
Both of these are Bible Study/Devotional books, taking an in-depth look at these two pivotal women in Scripture, and relating them to our own lives as women, mothers, grandmothers….. These are currently available at $2.99 each. So that's $5.98 for the two.
To these two I added one of my seven-day devotional books, A Mother's Heart, currently selling at $0.99. That makes the set cost $6.97 right?
Wrong!
You can buy the entire set of three for $2.99. You can put that another way:
So I went to work to create the boxed set cover. What fun I had! Here's the result: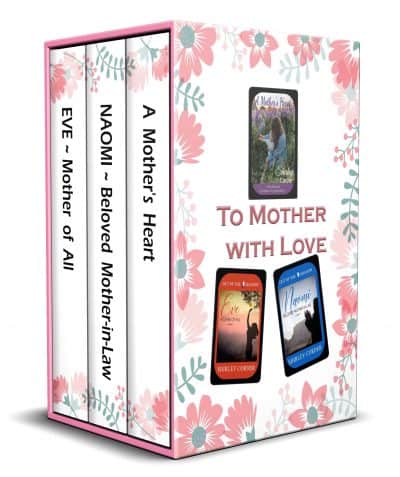 Purchase for Mother's Day:
You can purchase this great deal by clicking on the image or here.
When I finished it, a friend asked me, "Why did you do it with a left spine? I've noticed a few people prefer that, but I always use a right spine."
Okay, so I hadn't given it any thought. Interestingly, In All Things was done with a right spine, but for some reason, this time I had used the left spine format.
So here's Marion Ueckermann's Mother's Day special – and it's done with a right spine.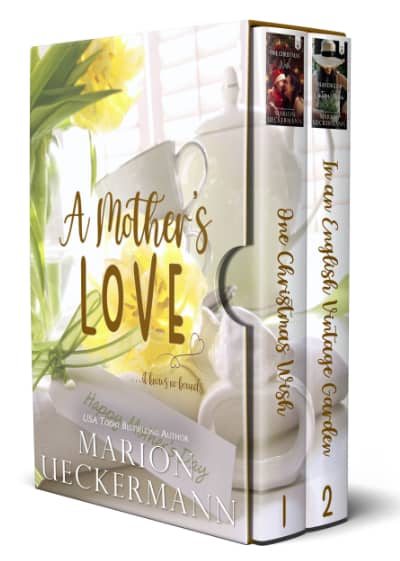 If you're interested in this lovely set about a love that knows no bounds, do take a closer look by clicking on the image or here.
OVER TO YOU:
So here's my question for you today.
Which of these two approaches do you prefer?
I intend doing more of these sets, and I would like to establish which people prefer.
| | |
| --- | --- |
| The left spine: | The right spine: |
One last fabulous Mother's Day offer is to be found in this e-reader promotion. Take a look at the amazing selection of books, and select all you want. All faith-filled content in different genres, and available from the same place.
Included in this promotion you will find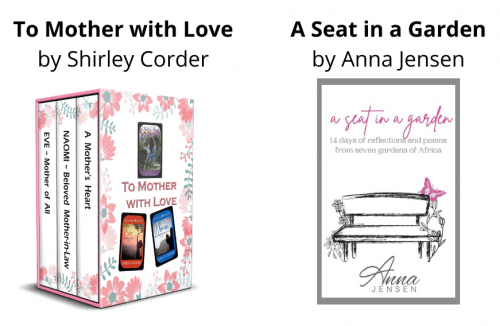 Plus an amazing selection of books: All inspirational. All for Mother's Day!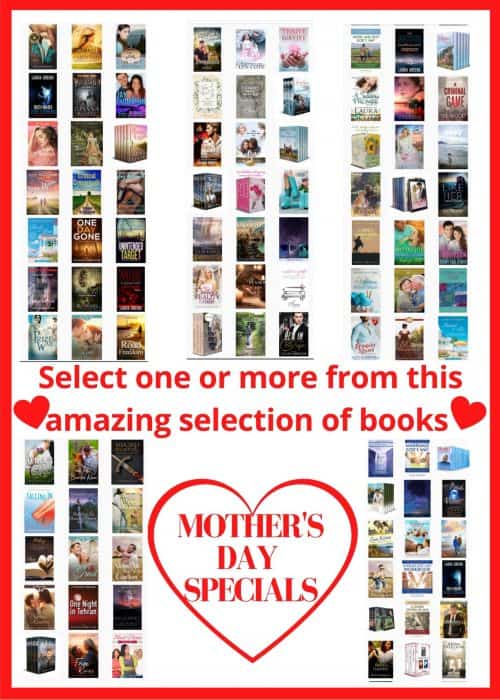 Take a good look at this special promotion.
It's not often you get as big a selection as this!
Click on the image or find it here.
And before you go, don't forget to answer my question.
Spines to the left? or the right? Leave your comment below.