Miriam Part I ~ The devoted sister

Meet Miriam, the devoted sister!
Most of us know about Miriam, the little girl who watched over her three-month-old brother as he sails in a basket boat on the crocodile-infested River Nile.
We've probably also heard the story of the Hebrew boy who grew up in an Egyptian palace. But during that time, what was happening to his sister, Miriam?
Disclosure: This post contains some affiliate links for your convenience. Click here to read my full disclosure policy.
Out of the Shadow #3
Miriam Part 1 ~ Devoted sister, is the 3rd in the "Out of the Shadow" series. The women in this series are usually thought of under the shadow of another person.
Book Background
Shirley Corder approached the story of Miriam with some trepidation. Was there enough material to write a full e-book about her?
Was there enough material to write a full e-book about Miriam?
Click To Tweet
Imagine her surprise when she discovered enough to write two or even three books on this fascinating Bible character, starting at the age of 10-years-old and following her life into her late nineties.
Can you visualize a ninety-year-old leading a team of dancers while playing the tambourine? 
Can you visualize a ninety-year-old leading a team of dancers?
Click To Tweet
You'll have to wait for Miriam Part II to read about that!
Part I
Miriam Part 1 takes an in-depth look at young Miriam when she is confronted with the imminent birth of another sibling. What would Miriam's parents do if their new baby was a boy?  Pharaoh had ordered the death of all new-born Hebrew boys.
What would have happened if Miriam's parents had obeyed Pharaoh and destroyed their new baby?
Click To Tweet
Why read this book?
Shirley would like you to get to know this brave woman of faith, as she steps out of the shadow of her baby brother.
The book is written in creative non-fiction, a genre which deals with facts written in story format. It comprises 50 short stories telling the Old Testament story of a little girl who had to grow up very quickly. It is not a work of fiction, but in order to bring the story alive, there are some embellishments to help you relate to the story.
At the end of each chapter, there are a few questions or comments to help you reflect upon what you have read and how it may apply to you.
How to read this book
There are two ways you can use this book. You can read it through as a story, pausing at the reflections as you go. Or you may choose to use it with friends or an established Bible Study group. You could assign several chapters to be read over the following week— possibly even as daily readings— and get together once a week to share your own reflections and discuss what each person has learned.
The Scripture readings are very short, sometimes only a section of a verse, because there is often so much information packed into one verse of Scripture. On a few occasions, you will even have the same reading for consecutive chapters.
Feel free to read the passage surrounding the quoted verse although these will not necessarily be relevant to the chapter you are reading. The reflections often suggest further readings in order to give you background to the passage. I pray you will enjoy getting to know the young Miriam as she steps out of the shadow of Moses, her beloved (at times!) baby brother.
The story commences:
Miriam looked up as her mother, Jochebed, slipped into the room. Late to break the fast, again. Eyes red-rimmed, again. Ten-year-old Miriam was old enough to recognize tension, yet too young to figure out why. Her father, Amram, had left for work before she awoke. He would probably come home after Miriam had prepared the evening meal and lulled her younger brother to sleep.
"How would they cope if I'd been born a boy?" she often said to Aaron. At the tender age of three, the little boy would chuckle and nod his head at anything his big sister said.
Miriam remembered Aaron's birth. She was 7 at the time, and had looked forward with excitement to his arrival. At last, she would have a baby brother or sister. All her friends already had younger brothers or sisters. The baby could be a boy or girl, as long as she was allowed to play with it.
Great was the celebration when the baby arrived. Miriam looked at the scrawny red infant and felt totally let down. He wasn't going to be any good for her. The neighbors came to visit and congratulated the parents. They mostly ignored Miriam, except for the occasional comment, "You are blessed to have a baby brother. Praise God it's a boy!"
She got the message. Until then, she had felt loved by her parents. After Aaron arrived, she knew the truth. When she was born, her mother and father would have been disappointed. Parents always hoped for a boy to keep the family name going.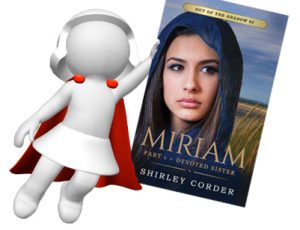 Now you need to read the book . . .
If you enjoy it, I would love you to post a review on Amazon and anywhere else you know of. Thank you.

The story of Miriam continues, as she travels with the Hebrew nation from their native Goshen en route for the promised land with an estimated 2 million people.