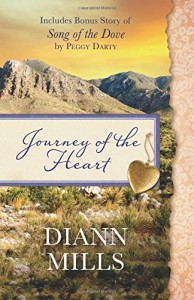 Journey of the Heart is a Christian historical fiction story set in the year 1857. DiAnn Mills has done her thorough research into the traditions of the Comanche Indians of that period of time, which makes for interesting reading.
White woman Katie Colter promises her dying father that she will leave her Comanche home where she has grown up and join her aunt and uncle at the white man's fort. However, when she leaves the Indian family whom she loves, she also leaves Lone Eagle, the warrior she has pledged to marry.
Living with her white family, she gets to know their ways of life and their God. She also draws close to Sergeant Peyton Sinclair. Lone Eagle refuses to give her up and regards her act of leaving the Comanches as an act of betrayal.
In Journey of the Heart we learn about the ways of the Indians and come to empathise with Katie. Click To Tweet Should she honour her commitment to Lone Eagle and return to the Comanches? Or should she remain with her own people and a possible life with Peyton Sinclain?
Included with Journey of the Heart:
is a bonus historical romance from the late author Peggy Darty. Morning Dove is the daughter of a Ute woman who was raped by a white man. Her mother gives up her baby so that she can be brought up by the palefaces whom she strongly resembles. Morning Dove only learns of her heritage when her biological mother, is dying and asks to see her daughter. She is helped through the process by a missionary whose one parent was an Indian, so they are both technically half-breeds.
I received this book from Barbour Publishing via Net Galley. There is no bad language or sex scenes, and I would recommend both stories to readers who enjoy historical romance, especially if they have an interest in the Indian way of life.
Thank you to Barbour and to Net Galley for providing me with this book. Other Book Reviews  by Shirley Corder can be found here.