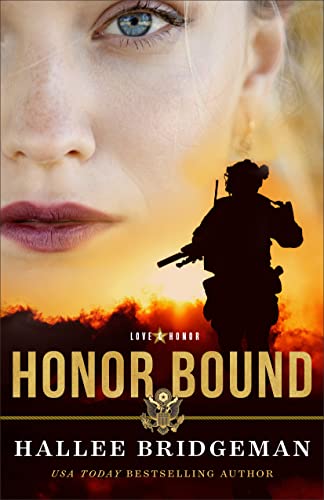 Honor Bound is a clean, suspenseful story packed with action from the first sentence. We have men of the green beret led by Cpt. Rick Norton. He is following orders to rescue the Vice President's daughter, Dr. Cynthia Myers, from the jungles of Africa. The first problem we hit is that she is in grave danger. Enter Cpt Rick to the rescue. Second problem? She refuses to be rescued.
The two main characters are not impressed with one another. Cynthia despises war, weapons, and violence, and does not believe she is honor bound to obey her father. Cpt Rick on the other hand believes he is honor bound to obey the next in line to the presidency of the USA.
As the story develops we see a gradual shift in the relationship. However, the author keeps us guessing until almost the end of the book. Is there any way this relationship can work out?
This is the stuff that leads to sleepless nights! Well done Hallee Bridgeman! This is the first I have read of her books, but the first of three in a row. I loved the action.
Who will enjoy reading Honor Bound?
Readers who enjoy a tense, story full of suspense, but that also gives insight into what is happening in other countries. The background to rural Africa is gripping and well-portrayed.  Although based in my home country of South Africa, it reminded me why I prefer to live in the south and not in the jungles of "up north."
Blurb for the Story
It may seem odd to seek peace by moving to a war-torn African country, but for medical missionary Dr. Cynthia Myers, it provided a way to escape a shallow life of unearned wealth, a philandering fiancé, and a father now square in the public eye as vice president of the United States. At least here she knows her work and life have meaning. But all that is thrown into chaos when she fails to save the life of a local warlord's mortally wounded son.
As part of the Army Special Forces "A-Team" on a mission to capture and subdue the warlord, Captain Rick Norton is compelled to use deadly force to save Cynthia's life. Enraged at the violence she witnessed and riddled with guilt that men died because of her, Cynthia tries to hold on to her anger–but an unwanted attraction is taking hold.
With two members of his team badly injured and rebels in hot pursuit, Rick will have to draw upon all his strength and cunning to get her out alive . . . because he's beginning to think they just might overcome their differences and be able to make a life together.
Disclosure:
I received a free copy with no expectation of a positive or negative review from the publisher. The opinions are my own.