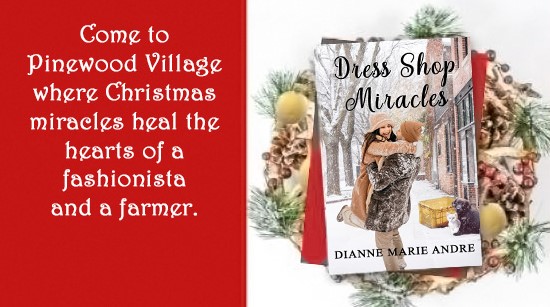 The Story of Dress Shop Miracles
The story begins with Molly Noland furiously trying to prepare her new dress shop, the dream of her life, for its grand opening, just a short time before Christmas. Time is running out, and the first of a series of miracles occurs when the neighbouring shopkeepers and friends come to the rescue.
Hours before the shop is due to open, a stranger arrives at the door with devastating news.  Suddenly, it looks as if Molly's dream is turning into a nightmare.
Her boyfriend, the man whom she hopes to marry, steps in and attempts to help her. In the process, Molly stumbles upon a secret he has been trying to pluck up courage to tell her. Her faith in him is shattered, and it looks as if her entire future is doomed.
Throw in several further crises, both for Molly and for Ted, and the story deepens. Will there be a happy ending? It is difficult to tell. But readers will be enthralled by the miracles that just keep happening.
Who will enjoy reading Dress Shop Miracles?
Readers who enjoy clean light-hearted stories will love this novel. And yes, the best miracle of all arrives just in time for Christmas. I cannot recommend this book highly enough. Don't miss out on this lovely read.
Blurb for the Story
Molly is determined to achieve her dream as a dress shop owner before accepting Ted's marriage proposal. But as the Christmas-season grand opening approaches, an unexpected curve derails her plans—which means possibly letting go of her career hopes. But at least she has Ted … or does she?
Ted, a former city guy turned small-town farmer, longs to marry Molly more than anything. He also wants her happy doing what she loves. He uses his city connections to help solve her problems, but when his secret comes to light, she wants nothing more to do with him.
As if life isn't hard enough, a stranger enters Molly's life, testing her faith even further. She tries to move forward with a broken heart, when she learns that God had been working behind the scenes all along and that Christmas wouldn't be Christmas without His miracles and healing grace.
Disclosure:
I received a free copy with no expectation of a positive or negative review from the author. The opinions are my own.