Start at the beginning of the story
Now read on . . .
The time had come to commence radiotherapy. The one-hour drive into the Rand Clinic, a private hospital in the center of the notorious Hillbrow suburb of Johannesburg, went too fast. Rob and I prayed aloud in the car. Then we tried to keep up positive conversation. How much positive conversation can you think of on the way to the gallows? I wondered.
The streets of Hillbrow
It was almost a relief to spot the grey building of the hospital towering ahead of us. We drove through the litter-strewn streets and past the street vendors with their wares laid out on the pavement. We shook our heads negatively at the shifty-eyed hawkers who plied their goods at the traffic lights. Two outrageously dressed girls, who looked as if they should still be young, faces plastered with make-up, cheap jewelry hanging over black plastic jackets, seductively sauntered up and down the pavement. Their high-heeled black boots covered their knees and almost reached the hems of their diminutive skirts.
"Are those what I think they are?" I glanced at Rob's silhouette as he concentrated on the heavy traffic.
"Yes." 
When Rob and I had first married, we lived in a flat near here.
"How the area has degenerated through the years," I remarked sadly. My gaze was drawn back to the building ahead, as Rob maneuvered the car into the parking lot across the street from the main entrance.
Advice of a friend
Raeleen, a friend who had been through radiotherapy a year ago, had warned me of certain things, for which I became extremely grateful. She told me that I'd be left alone in a room full of gigantic machines. "There is a heavy metal door which will clang shut as the technicians leave. "When the machines start to work, they make a hideous row." She explained how no one had warned her, and the first time she received treatment, she got such a fright that when the machines started to work, she leaped off the treatment table in terror, causing total panic to the staff! "There's absolutely no pain," she reassured me. "You won't feel a thing."
Be prepared! This is not only relevant to scouts. It applies to cancer treatment. The more you know, the better you'll cope.
Click To Tweet
"Just be prepared for being left alone, for the clanging door, for the noise," she assured me. "You'll be fine."  
As we walked through the hospital entrance, I drew a deep breath, and held my head high. I can do this! Then—O Lord, help me through the next couple of hours!
A new game?
"Please could you direct us to the radiotherapy Unit?" As Rob asked the officious looking woman at the Inquiry Desk, I noticed her disinterested gaze moving from him to me. Guess the cancer patient, I thought wryly. What a fun game!
We entered the lift, and pressed 6 on the lift panel. I felt if everyone was gazing at me, instead of watching the lighted numbers ticking off our ascent. One by one the passengers got out. Everyone, except Rob and me.

I reminded myself that I was unique. They had never given radiotherapy to Shirley Corder, so I resolved to stay positive. 
Cultivate a scornful disregard for statistics. You are unique! There are no statistics about your life!
Click To Tweet
Ping! The lift shuddered to a stop, the doors opened, and we caught our first sight of the room where we were going to spend a good deal of time.  Rows of identical, upright, comfortable looking seats lined the walls of a long, cheerful room painted in pastel colors. Several tables stood under untidy piles of old magazines. To my left was a smallish reception area, with a number of busy ladies ignoring the lift and the newcomers. Hesitantly we approached them.
Reception Committee at Radiotherapy
Eventually a lady glanced my way and handed me a clipboard. "Please fill in your details." With Rob's help I filled it in, including all sorts of apparently irrelevant information, and took it back to the counter. I gave the lady a bright smile, hoping to receive one in return. From her expression I realized she didn't consider this to be a smiling matter. She wasn't the only one.

Soberly I answered some further questions, and retreated with Rob to "sit over there and wait until you are called."
In the corner stood a vending machine offering free coffee, tea, and drinking chocolate. How I longed for a cup of coffee. Surely, the fact that it stood in this room indicated I could help myself. Yet, I didn't know what to expect. Could I drink just before the treatment? I didn't want to do anything wrong. I looked at the frosty-eyed lady, and decided it couldn't do any harm to ask.
A smile goes a long way
"Excuse me. Is it all right for me to drink coffee?" 
"I don't know what you are allowed, it depends on your diet. You'll have to ask your doctor."
I looked in astonishment at the steely eyes, looking out through the empty window of the top half of her glasses. I realized she had misunderstood me, but I didn't have the courage to try again.
A young clerk smiled up at me from the other end of the desk. "You're welcome to help yourself. It won't make any difference to your treatment if that's what's worrying you."
"Thank you!" What a relief to see a smiling face. I walked over to the vending machine and poured us both some much-needed coffee.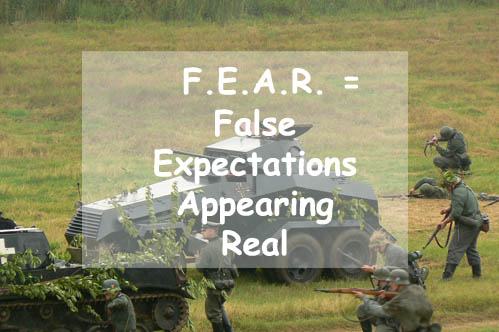 I couldn't concentrate on a magazine, so I stared at my shoes and allowed my mind to drift over the illustration of my war with cancer. In the next room there were machines that I'd never seen before. These were the artillery, and they were preparing for my arrival. I pictured those cowardly cells hiding in the scar tissue of my breast and resolved to tell the machines where to look for them. 
How about you?
If you are facing radiotherapy (or radiation as it's called in some countries) try not to be afraid of them, but to see them as part of the weaponry in your fight against cancer. They are not the enemy! They are there to help route out the enemy and restore you to health once again. 
How do you deal with suffocating fear? It doesn't need to be a fight against cancer. We all have to deal with this  terrifying emotion at one point of another.  Please share your coping mechanism with me and with other readers.