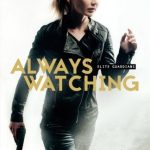 Always Watching is the first in the Elite Guardians series by Lynette Eason. The Elite Guardians are a team of bodyguards, made up entirely of women. Because of their backgrounds in military and law enforcement, each woman is well-equipped for the many terrifying situations that come her way.
In Always Watching,  Elite Guardian is charged with watching over Wade Savage, a psychiatrist and celebrity radio host. Olivia Edwards takes over the case when Wade's initial bodyguard, Maddy, is attacked and almost murdered when on duty. Olivia is a heroine with a complicated relationship with God. She believes He exists, but she doesn't like Him very much—for a number of good reasons.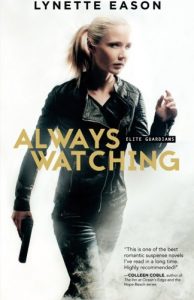 The characters are well-developed. Readers can't help identify with Wade's almost-teen daughter, Amy, as she shows typical teenage behaviour and reactions yet overcomes her chronic anxiety disorder when faced with a life or death situation. Father Bruce Savage is a concerned father who will stop at nothing in his bid to keep his family safe from the mad-man, or woman, who threatens his son's life. I enjoyed the way the main characters occasionally disregarded the people tasked with keeping them safe, of course always to their detriment.
The story is fast moving. Each time the reader breathes a sigh of relief, she should be encouraged not to relax. The next crisis is about to explode! Although it is described as "Romantic Suspense" it is far from being a love story. The romantic angle is there, but the suspense is paramount. The author managed to create a number of clear suspects, and it was fun trying to figure out who it really was.
The Christian message is clear without it taking over the book. It is a pleasure to get lost in a story full of suspense and challenges without having to skip filthy language or sexy scenes.
This book was provided to me for an honest review by Revell Reads, and I don't hesitate to give it five stars. I can't wait for Book 2 in the series!
Over to you:
Which do you prefer? Christian suspense or ordinary suspense? Christian romance or ordinary romance? Why?