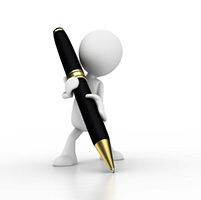 Meet the editor
We've just come to the end of a series of interviews covering all the authors of our thirteen books contained in In All Things.  Each of us undertook to get our own proofreaders etc, but when I received the books, after checking them for consistency and making corrections where needed, I sent them out to a number of volunteers from our Christian Writers of Southern Africa (CWOSA) group for final edits. That's when I discovered the editor, Allyson Koekhoven!
Allyson has been a member of our group for a while, but up until then I hadn't realized she is actually a member of the Professional Editors' Guild. What a find! She did several excellent edits for me, picking up on a number of issues that had slipped through all the other pairs of eyes that had already been over the books.
So today, it's my great pleasure to introduce you to . . . Allyson Koekhoven, who lives in Marina Beach, KZN on the South Coast of South Africa.
Shirl:  Welcome Allyson!
Great to have you with us today.
Allyson: Thanks so much for giving me the opportunity to chat to you and your readers, Shirley.
Shirl: I was grateful when you offered to do some proofreading for me, and you did a fabulous job. But I was blown away to learn you are actually a member of the Professional Editor's Guild. Oh wow. What is your background? When did you enroll with the guild?
Allyson:  I joined the Guild during 2020 after completing a formalized online book editor course, but my practical experience with editing goes back many years.
Editor Background
Shirl: Are you a full-time editor, or do you have another job? If you're not, is it something you would like to do full-time in the future? 
Allyson:  I'm not a full-time editor, although that is definitely on my current wish list. I have been a business-to-business content creator for almost four decades and have run my own communications and content creation business for the past 27 years. Until 11 years ago I was also a freelance industrial editor for various trade and technical publications. That involved everything from sourcing and writing content, to proofreading, liaising with the designers on layout, and editing. This gave me a very good technical foundation for manuscript proofreading and editing.
My entry into book editing came when Amanda Patterson at Writer's Inc/Writer's Write asked me to read and vet manuscripts. I subsequently proofread and edited fiction and non-fiction works for the company.
Although I love writing business-related articles, since I started writing my debut novel a couple of years ago, I have felt a pull towards becoming more involved in manuscript editing. I think 2020 put a lot of things into perspective for me, one of which was to develop my skills in complementary areas. In preparation for this shift in my business focus I have registered two website URLs – editor.org.za and book-editor.co.za – which I will be developing during the course of this year. In the meantime, I have listed my proofreading and editing services on my content creation website.
When and How to Submit to an Editor
Shirl: At what point do you like to receive a book? I ask this because, in addition to a regular critique partner who works through my book with me, which usually involves two or three edits, I then have a team of around 8 people who proofread the book for me. Each of those feedbacks lead to another edit. By the time the book is ready for a final edit, it's usually been through the mill anything from a dozen to 16 times! Only then do I send to the person who will be my final editor, whether a professional or not. I would love to be able to cut back on some of those steps as it slows me down tremendously.
Allyson: This completely depends on the level of experience of the author, since this in turn dictates how extensive the editing process needs to be and when I would prefer to receive it.
The manuscripts of less experienced writers generally need a heavy/content edit. In this instance, I would need to see the manuscript in a 'raw' format so I can look at the content and the meaning of what is being written about.
If the writer is more experienced, then a medium edit would likely suffice. The author should first have done spelling and basic grammar checks. The editing process would include more rephrasing and reworking of passages to help add in additional expression and clarity.
When working with experienced authors, a light edit – which looks at the usual grammar and punctuation issues and makes relatively minor changes to the text – would be the norm. A light copy edit does not correct structural issues (logical argument, the arrangement of chapters, and plot holes), but margin comments will be included if anything looks like it needs more work.
How many edits should an article or book have?
To answer your second question, I'd like to use the analogy of 'Too many cooks spoil the broth'. Unfortunately, proofreading and editing can be very subjective so it's best to minimize the number of eyes that see your manuscript since opinions can often be contradictory.
I've come across a number of authors who use different beta readers for each individual section or chapter of their book, but this has pitfalls since some of your beta readers may be pedantic about getting their comments back to you while others drop the ball. There is no 'one-size-fits-all' approach, but in my humble opinion, the ideal would be to have a proofreader check your spelling and basic grammatical errors after you have finished a first or second self-edit. Then you ask the editor to edit your manuscript (the number of edits are, once again, dependent on the author's level of experience) and finally, once the book is designed, a second 'polishing' proofreading session takes place.
Shirl: I'm currently on a book for Pastor's Wives, and actually have an American editor standing by to do an edit for me. I'm wondering whether it needs to go through all those steps first. I'd love your opinion.
Allyson: The short answer is 'no'. My long-winded answer is above.
The Best Part of Editing
Shirl: You obviously enjoy what you do, so please tell me. What for you is the best part of editing someone else's writing?
Allyson: I know it sounds terribly clichéd, but I love words, so for me, editing is like doing a huge jigsaw puzzle combined with a furniture refurbishment project. It's the placement of the right words in the right places and refining them so they resonate with the readers, that gives me great satisfaction. My family constantly jokes that I cannot read a book or magazine for pleasure because I spend a great deal of my time looking for errors.
Shirl: I often have that problem too, and I'm not even an editor!
The Worst Part of Editing
And of course, I now have to ask you, what is the worst? What makes you not enjoy editing a particular book? Have you ever had to turn one down?
Allyson:  The worst part of editing for me is when a would-be author has very little or no understanding of basic storytelling. Poor grammar and spelling are an irritant but not a deal-breaker. Sadly, I have turned down a few manuscripts that had none of the elements of good storytelling.
Shirl: How can authors best prepare their manuscript for an editor? Do you want some history of why the book has been written? Or do you prefer to just sit down and stick in straight away?
Allyson: I prefer to just sit down and stick in. I don't want to have preconceived ideas about a book. I don't need a history of why the book was written, but if I need clarification I'll definitely ask for it. The best preparation for any author before they submit their manuscript for editing is to do a spell-check. This makes it easier for the editor to tackle the actual editing process without getting too bogged down in checking misspelled words.
How Long Do You Need?
Shirl: Roughly how long does it take you to complete a book. That obviously depends on the length of the book, but if you can give some sort of idea.
Allyson: I sometimes read a whole manuscript in one sitting. This is a very quick and cursory read, so I can get the gist of the story or theme. The time it takes to do a complete edit though, depends on whether a structural (heavy/content) edit, a light edit or a medium edit is needed. In general, it would take me anything from a few days up to three or four weeks, depending on the length of the book, the quality of the writing and the degree of technicality (for non-fiction books).
The final proofread should be a lot shorter process, as by then editing has been completed. Many people feel intimidated by the self-editing process and this can paralyse them into not completing their book. While most editors, I am sure, would prefer to receive a manuscript that has had some level of self-editing, it is not critical. Get your words onto paper, do a spell-check and submit your manuscript to an editor!
Shirl: Is there ever a time when authors should/could send part of a manuscript to you? Does that make it easier for you if it is a fairly long work?
Allyson: If it's a non-fiction manuscript with completely independent chapters, then the author can send in sections as soon as completed. However, if the chapters are complementary and interlinked, or if it's a fiction book, it's better if they send everything at the same time.
The Englishes!
Shirl: And because we are holding this interview in South Africa, I must ask you. Which English are you most comfortable with? British (or South African) English, or American English?
Allyson: I am equally at home with either. 
Making Contact with the Editor
Shirl: Thank you so much for taking the time out to chat with us today. How can people get in touch with you if they want to know more? Do you have a personal website where they can see costs and further details? May they email you? 
Allyson: My new book editor website will be live in the next couple of months but in the meantime, authors can reach me at write-on@iafrica.com In recognition of the economic crunch that most of us are feeling during lockdown, I am keeping my fees to the absolute minimum during 2021. Hopefully, this will go some way towards getting more books published.
Shirl: Thank you so much, Allyson. It's been great learning more about you and about the editing process in general.