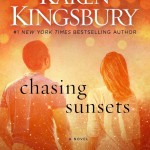 I love Karen Kingsbury's books, and requested this one from NetGalley. It is well-written as always, but I admit to being a little disappointed in a few things—hence the four stars. I would have liked to give it five.
The story opens with a meeting of angels taking place in Heaven. There is a definite similarity to Frank Peretti's first two books, This Present Darkness and Piercing the Darkness, although the supernatural doesn't play as pronounced a role.
The heroine, Mary Catherine, grew up in a comfortable home and loves her wealthy parents, but she wants more out of her life. She becomes involved in welfare work where she comes alongside LA Dodger, Marcus Dillinger. The two are immediately attracted to one another, but a phone call from Mary Catherine's doctor ends her interest in pursuing a romantic relationship.
She believes she cannot give her heart to a man, she cannot marry, and nor can she have children.  As an RN who has faced life-threatening illness, I had a problem with the incredible vitality shown by Mary Catherine. She is actually a very sick young woman, but you would never guess it.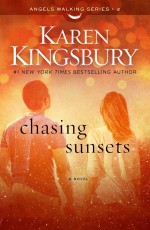 Two angels are sent to earth and show themselves as human characters, acting as mentors to both Mary Catherine and Marcus.  I enjoyed the way Karen handled these and each time they showed up I knew all would be well. I missed reading book one of the series, but I didn't find that a problem to picking up the thread.
The story ends with a number of cliff-hangers, which means there is no "happily ever after" ending. I understand that this makes the reader anxious for the next book, which I hope won't be too long in arriving! However, the author managed to achieve this really well with her Baxter series, where each book was complete in itself, despite various story lines being carried over from one to the other. I missed that factor in this book.
Apart from these couple of points, I really did enjoy this book, and I don't hesitate to recommend it to Karen's fans and to any readers of Christian novels. I will be looking forward to Book 3 in the series.
I received a free advanced digital copy of this novel from the publisher through the "Revell Reads" program in exchange for my unbiased opinion.
Thank you Revell and NetGalley for this good read! And thank you Karen Kingsbury for your amazing books that continue to bless and challenge us.