Jenny Blake, aka AusJenny, is the co-founder of the Australian Christian Readers' Blog Alliance (ACRBA). Here she speaks about her dreams for the alliance.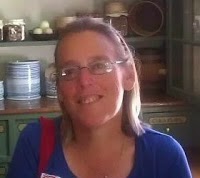 Shirley: Hi Jenny, thank you for joining us today. Let's start with a bit about yourself. Have you always lived in Australia?
Jenny: I am a born and bred Aussie. Born in a small town just over the border in Victoria and then when I was almost two we moved to a farm this side of the border in South Australia. We then moved into the town and I have been living in this area of the South East of South Australia ever since. I was a carer for my elderly mother 'til she moved into a nursing home and then passed away last year. I am now looking for work in the administration area. I studied Business Administration.
I am also a cricket fanatic. I love watching it live and will often listen online to my state team playing. Last year at the Adelaide test I got to share the lift with South African Cricketer Morne Morkel and that was the highlight of the trip. I am also an avid reader.
Shirley: Oh how wonderful to spend time with one of our cricketing giants, Morne Morkel. We always watch the cricket here in South Africa when we're able to. (When it's in Australia, the matches are usually in the middle of the night for us. I'm keen, but not that keen!) So, what was your favourite book or author when you were a child?
Jenny: I received a book of Hans Christian Anderson's fairy tales when I was about 6 and it had the story The Snow Queen and I loved it and it became my favourite book and story. Then I discovered Enid Bylton and The Faraway Series which I read so many times. I loved her books.
Shirley: I am with you re Enid Blyton. I loved all her books, especially The Faraway Tree series. I made sure all my children and grandchildren read the books too!
Shirley: What about today? What is your favourite genre now?
Jenny: I would have to say Historical. I love learning history. While I love historical I am not a big fan of English regencies, I don't like the class system. I love the American west and the pioneer era. I love Gilbert Morris's House of Winslow series.
Shirley: I'm also not keen on English regencies. I haven't analysed why though. What prompted you to start the Australian Christian Readers' Blog Alliance?
Jenny: This came about from an online chat with Australian author, Narelle Atkins. Wwe wanted to promote Australian books to other readers and also to promote other authors from outside America who do not have as much access to blog alliances. With more books coming out we thought we could do something to promote the books. I am in a couple of other blog alliances and have seen how they work and how successful they are and have also seen how many American Publishing Companies are no longer sending books to overseas reviewers so we felt there was a market here. The chat lead to the alliance starting.
Shirley: What is your vision for this group?
Jenny: Our vision is to promote good fiction, non fiction and children's books to readers around the world. We want to see the group grow with more reviewers and eventually offer more books a month to the reviewers. Currently we have more fiction readers and would love to see more non-fiction reviewers. We want readers around the world to see there are good quality books available outside America. We also want to help promote these books and authors.
Shirley: That sounds really good. As a non-American author myself (although Strength Renewed is published in the USA), I find this encouraging.
Jenny, if you could spend an evening with three famous living authors who would you choose and why?
Jenny: Hard question but first I would have Gilbert Morris as I love his books and he is an amazing author. The way he tells a story and includes facts is amazing. Second would be Cheryl Wyatt as the first book I read of hers mentioned cricket. I found she loves cricket and its our goal one day to go to a cricket game together. Third . . . this is really hard as there are a few I can choose from, but I am going for Jillian Hart. I have gotten to know her on Goodreads and we click. I think she would be a great addition to the evening.
Shirley: Do you write as well as read? If so, what sort of writing do you do?
Jenny: No I am not a writer. I love reading but as for writing I am not good at it. I am not good at descriptions. Even when reading a book most of the time if quizzed at the end of the book I could not tell you the colour of there eyes or hair unless it was mentioned several times, I don't take in the details of clothes etc. I can write concise letters and documents and enjoy writing reports but to write a book it would be a very short story with very little detail. I will say I have always had an extremely active imagination just cant capture it in words.
Shirley: Well, we're glad that you are so enthusiastic about books, and that you're prepared to do so much to promote them. Where can we find you on the Web? And what can we expect to read when we get there?
Jenny: I can be found at my blog, Come Meet Ausjenny. I have book reviews, blog alliance posts there, and each Thursday I have a special "Getting to Know You" or focus on an author interview. I also have occasional giveaways on my blog.
If your readers are interested in knowing more about ACRBA, they can find out all about the alliance here. We are always on the lookout for additional readers who are prepared to do regular reviews, and in particular we'd love some more non-fiction reviewers.
Shirley: In closing, what are the requirements for a reader to become a reviewer with ACRBA?
Jenny: We require an established blog with an active readership. To satisfy this requirement you will need to have been blogging for a period of six months to show you are committed to posting and that you are posting a minimum of two posts a week. We will consider your request if you have been a blogger for less than six months but are actively posting several posts a week. We want the alliance to enhance your blog and not be the reason for your blog.
Shirley: Thank you so much Jenny. I have been with the alliance since it started, and I have really enjoyed reading new books by hitherto-unknown authors. I think I'm right in saying up until now all the books I have reviewed have been Australian, which we don't get in our bookstores as far as I know.
Thanks again Jenny for giving of your time and sharing a bit with us about your book life and in particular the book alliance.