A need is revealed!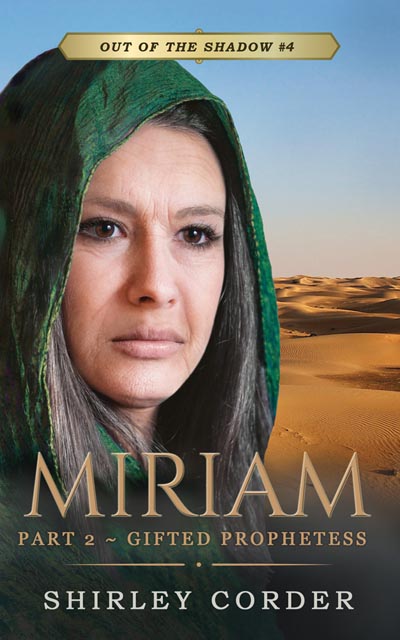 A few months ago, I released a new eBook on Amazon: Miriam, Gifted Leader. I referred to it as Part 2 of the story of Miriam, a mistake I intend rectifying in the next week or two. I realized my mistake too late. Who would want to buy Book 2 if they hadn't already read Book 1? The book is a stand-alone, but how would potential readers know that?
So I scheduled a five-day period on Amazon where Book 1 would be offered free. That would solve my problem. Well, it might have. But I forgot!
Four hours before the five days were up, I frantically called on my street team to get the news out! Book 1 was free–for a few more hours . . . which were soon gone. I didn't sell ONE book during the 5 free days. Really?
Come the new year, I had to become more organised. I needed help!
Because I love learning new things, I was thrilled (and surprised) to discover two new tools I would need to put into almost immediate use.
Off with the old and on with the new
At one minute to midnight on December 31, 2017, my husband and I were in prayer when we heard counting wafting to us on the sea breezes: 10, 9, 8, 7 . . . The new year was about to arrive.
We rose to our feet, picked up our drinks (cola-tonic and ginger ale!) and made our way onto the stoep at the front of our cottage. Only three streets up from the beach and a few streets along from the Port Elizabeth pier, we had ideal seats for the firework display about to commence.
Midnight
As the count reached 1 . . . a loud cheer emanated from the beach as millions of rand worth of fireworks shot into the air.
2018 had begun in S.Africa. Australia, New Zealand, India, China and many other countries were already well into the year–but we were ahead of the UK and the Americas.
I experienced the same thrill I feel every year. A new 365 days. 52 weeks. 12 months.
What would they hold?
What wonderful things will happen in the world? In our family? In our home? What sad things or tough decisions will we face?
It's too much to expect an entire 365 days of joy, although my "theme word" for the year is "thankfulness." I am determined to look for 6-7 reasons to give thanks every day this year. 39 per week. Some days, that will be easy, and I may think of more than six reasons. I'll jot them down and get in advance. Some days will be a lot more difficult so for that reason, I've called it a challenge!
Thankful Thursday
In December, I started preparing for my thankfulness project under the title, "Thankful Thursday." I wrote two posts on my blog and posted another two guest posts in preparation for the new year. My goal? Two thousand and eighteen (yes, that's right–2018) items of thanks during the year.
I decided to invite others to come on board. What a pleasant surprise as I watched the response. I would need a way to keep track of the other blogs as well as encouraging them to follow one another. Sue Loncaric, whom I know from a Facebook page for bloggers, wrote an excellent blog post for me on the topic, Linkies, a new word in my vocabulary.
InLinkz
I soon realised I needed cyber help with my venture. Enter InLinkz.
Click on the frog to learn more! I have created my first blog button to use with the Thankful Thursday project, and I've learned (I think!) how to use it.
My first post in the Thankful Thursday went live on Thursday 4th January, complete with the first 21 thankful points. I had some issues with the html code on the link-up which may be why I only have three folk linked at this stage. The final chance to link-up to the first post is Tuesday 9th. Then the 2nd post will be published on 11th.
If you have a post on thankfulness (or gratitude), I invite you to leave a link to your post, and visit at least two of the other links.
The template for my second post, due January 11, is drafted, and I have post-its around the house so I can jot down thank you points as they come to mind.
I will keep you posted on how this works. Meantime, check out some of my "thankful" related posts (shown below) or better still, consider joining up with the challenge.
Why am I doing this?
For a number of reasons.
It will discipline me with regular blog posts.
It will improve my blog traffic.
I hope it will encourage others in the same way.
And if for no other reason, it can only benefit me as I search my day for things I am grateful for.
Can you see how this might help you too?
But I said I discovered two new tools.
Introducing:
Trello

Two days before New Year, a writing friend, Val Waldeck, introduced me to a tool I had heard of vaguely but knew nothing about. Trello. This is a project management system which is evidently used for businesses across the world. As Val shared her desktop with me over Skype, I became more and more excited. Although I didn't learn "new words" as with the inLinkz tool, I learned new meanings for old words; boards, lists, cards, labels, etc.
If I can only get used to checking this regularly, there will be no more forgotten promotional projects.
I spent New Year's Day and the 2nd January setting up new boards that will help me keep track of the many writing projects I juggle. The first board I created was to keep track of my blog posts, and especially the Thankful Thursday challenge about to commence.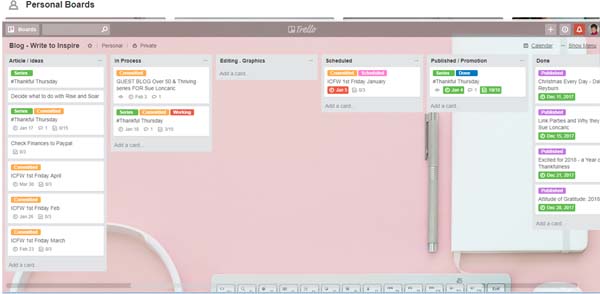 Each board consists of a number of lists. For my Thankful Thursday I create a new card for each week's post. The card gradually makes its way from the list called idea to the one titled in process and then on to written, awaiting graphics. Next it moves to scheduled, where it will await publication. I will then move the card on to published and  promotion and finally Done.
My critique group will be thrilled to know I also have a list for them. So far, I've kept up well. (Okay, so at the point of writing, that's less than a week into the new year but still . . . !)
Only time will tell how well I keep myself on track with this, but I have plenty of time to prove it! 365 . . . no wait! I only have 358 days left of 2018. Time is already starting to speed up! I hope this year I will be way better organised, thanks to these two new writing tools.
Have you heard of, or better still, used either of these tools? I'd love it if you leave a comment below.
If you have a thankful or gratitude post, please consider linking to the link_up "Thankful Thursday".