Who am I?
Good question. I sometimes wonder that myself.
I am an author, registered nurse and cancer survivor (1997). I am also a retired pastor's wife (the pastor retired, I didn't retire as his wife). I am mother to three adult, married children, which makes me a mother-in-law to three special not-so-young-any-more people.
Between the three couples, we have been blessed with six wonderful grandchildren, aged (at time of writing) from 1 – 22 years-old!
I was born in Scotland, grew up in Rhodesia (now Zimbabwe) and have spent most of my life in South Africa.
Changes ahead!
In 1997 I underwent a life-changing occurrence when I was diagnosed with breast cancer which had already spread to the glands. My surgeon didn't expect me to live a year. (Surprise!)
As a result of my experiences in the cancer valley, I experienced a U-turn, changing from a registered nurse (RN) to a published author.
In 2012, Revell/Baker in the States published
Strength Renewed, Meditations for Your Journey through Breast Cancer
, which was available across the globe. I am also 
contributing author to a number of other books
. I have had numerous articles and devotions published internationally, both in print and on the Web.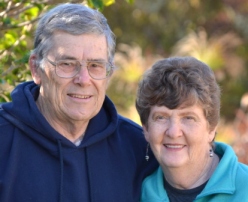 I currently live in the beautiful Eastern Cape of South Africa with Rob, my best friend who has been my husband since 1967, plus a lively Jack Russell terrier who answers (sometimes) to the name of Zoё. My home is only six-and-a-half minutes to the beach. (I timed it! Door to sand.) (Update: Sadly, Zoё is no longer with us. Her health was deteriorating rapidly as a result of old age, and we had to have her put to sleep.) 
One of my favourite verses of Scripture is the one that saw me through cancer treatment, and became the key verse behind my book,
Strength Renewed
, is found in Isaiah 40:31: 
those who hope in the LORD will renew their strength. They will soar on wings like eagles.
How I wished I could rise and soar above that beastly cancer valley. Hence the name of this website.
Welcome!
I trust you will find something of encouragement and inspiration as you browse these pages. Do follow me in one or more of the following ways so we can keep in touch!