Five weeks ago I confessed . . . I had writer's block. I mean, real writer's block. I couldn't write three words that made sense. After fighting this malady for several weeks (before I confessed) I decided to research the topic. So I turned to the best of all research buddies – Google! I didn't know at the time how much there was to read about the topic, or that there were different types of writer's block. I wanted to know what I could do to overcome it.
I enjoyed what I learned so much that I decided to share it with you. And wham! No more writer's block.
We discussed whether you believed in Writer's Block and looked at  some of the causes.
Next, we looked at 12 Ways to Deal with Writer's Block, reading the opinion of 12 well-known authors.
The following post we came up with 17 Ways to Prevent Writer's Block from happening.
Then the post before this one we looked at 26 Quotes from Best-selling Authors on the topic of Writer's Block.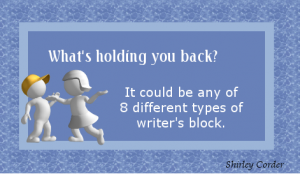 So what more is there to say? Well, I've discovered in my research that there are different types of Writer's Block. This should probably have been #2 in the series of course, but hey! I'm learning as I go, and I hope you're coming with me. As we look at the different types, I hope to add one or two suggestions for dealing with them. read more