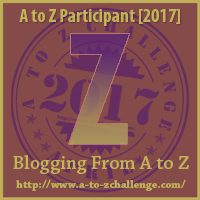 We've come to the end of the Build a Better Blog alphabet, and today  we're looking for that final touch. We have two words today.
Zing and Zeal!
First some definitions.
My dictionary describes zing as the activeness of an energetic personality.
It also suggests a brief high-pitched buzzing or humming like "the zing of the passing bullet".
For those of us participating in the A to Z Challenge it would be appropriate to mention the zing of April as it sped past! But that's not the sense we're using in this closing post, but rather the activeness of an energetic personality.
Zeal according to my dictionary means  a feeling of strong eagerness, excessive fervor to do something or accomplish some end, and finally prompt willingness..
Face your blog with  a combination of zing and zeal and I guarantee it will take off!
Whether you are building a family blog to keep in touch with those whom you love, or whether you are an author wanting to market your books, it won't be long before you realize you are going to need a whole lot of zing and zeal to achieve your goal.
In the beginning it is fun, and the ideas flow into your mind. Didn't you find that with the A toZ Challenge? You started with great enthusiasm, then life happened. Suddenly it was difficult to keep up, especially if your posts were long, as mine tended to be.
So if you've got to Z, congratulations! You've made it. At times it went zipping along. Other times it was a battle to get to your computer. But you've done it.
Now comes the hard part.
You recognize you can't keep up the daily pace (or can you?) and you have to decide what to do next. How often should you blog? What topics should you work on?
I've already given you the answer. Zing and Zeal!
Let's look at those definitions quickly.
ZEAL:
An excessive fervor to do something or accomplish some end.

 Do we remember what we're trying to accomplish? I think, for those of us who are authors, this can be difficult. We can get so caught up in writing regular posts to the blog, we may well forget why we started it in the first place.

Prompt willingness.

Hmmm. In other words, we don't let the weeks drift (or fly) past without sparing a thought for our blog. And if your life is anything like mine, that will mean having a set routine. Otherwise, the weeks will become months and those who enjoyed reading the blog will forget it exists.
This also means we cannot just write when we're in the mood. No business man would only go to the office when he felt like it. No nurse can only care for the sick when she feels dedicated.
If you're serious about writing, you need to write when it's time to write. Not just when you're gripped by the Scribe Bug. And if your goal is to keep the family informed of family happenings, you need to tell them about the new baby before her 2nd birthday!
ZING:
the activeness of an energetic personality. 
That  speaks for itself. Go to your desk and imagine yourself putting on a garment of energy. Lay aside your weariness. Conquer your inner conviction that you're not going to write anything good today.
Sit down, flex your fingers like you see on TV, and attack that keyboard with energy and zeal. As you write you'll probably be surprised to find you're enthusiasm growing. 
Don't stop to edit! If you forget a word, leave a blank and keep going. I can't bring myself to leave a blank so I quickly type an X and keep going. A few words later, I remember the word and go and fill it in. Otherwise, no editing. That comes once you're finished your post.
Strike while the iron is hot:
Yep! I've used a cliché. Horrors! But it's a good one for blogging. When you're in the mood, or in the zone as the youngsters would say, sit down and blog. For example, I outlined the majority of the 26 posts for this series with great zeal in a few hours the morning before the challenge started. (I know, I left it to the last minute. It was the end of March before I actually signed up on impulse.) Those letters I couldn't give a title to immediately, I skipped over and jotted down a few notes on those I had.
I then started writing the first one with enthusiasm so I could schedule it to publish the next day. By not taking a break on the Sunday (and we were fortunate to have a Sunday near the beginning of the challenge) I was able to get a couple of blogs ahead, scheduling them to appear on the correct day.
These last two points seem to be opposite to each other.
But actually, they're not. When you get inspiration, stop whatever you're doing (with wisdom of course) and jot down notes – or write the whole post if you're able to.
However, have some sort of timetable. For example, "I will schedule my Friday post on Wednesday." And then as Nike would say, just do it whether you feel like it or not.
To post on specific days in the future, you need to learn how to do this, and it will depend on the blogging platform you're using.
If you're using Blogger, just write the post as normal, then when you go to "publish" you will see the option of choosing another date (and time). Easy.
If you have a WordPress site, you will see when you go to publish you have a similar option. Just select the date you want it to appear, and it should publish on the correct date.
There are also a few WordPress plugins that work effectively. I switched to WordPress Editorial Calendar during this challenge and definitely prefer it to the previous scheduler I used.

It has the benefit of a calendar which will show you exactly what is posting when, and it is easy to drag and drop posts to other dates if you so desire.

This plugin also gives you a list of unscheduled posts which can be very useful. It prevents you forgetting all about that post you wrote and decided to leave until later.
If in doubt, save your post as a draft and then you can schedule it once you know what you're doing.
In order to help you to inject some zing and zeal into your blog, let's do a very quick recap of what we've learned during this series. You can then click on the link that reminds you of an area you need to read again.
Theme Reveal

 

introduces us to blogs and the variations you can find on the web. You'll learn how to get started and what to avoid.
A reminded us we need to be aware of our readers, and make sure they are aware of us.
B spoke of the possibility of blogging a book.
C offers suggestions on choosing creative content.
D looks at the need for dogged determination and how to keep going.
E has suggestions on building your enthusiasm as you go.
F looks at different fiction and nonfiction styles of blogging.
G has suggestions on how best to use Google, especially for safe use of images.
H tells you how to use hash-tags to grow your blog.
I talks about ways to use inviting images to make the most of your posts.
J shows ways you can link journaling with your blog.
K shares ways to write for your Kindle on your blog and how to use KDP (Kindle Direct Publishing.)
L looks at ways to learn and pass on your learning to others through your blog.
M talks about marketing and diversification, probably more of interest to the writers.
N offers ten ways to introduce a newsletter, whether for a family or as an entrepreneur.
O gives a list of different opportunities you can use.
P urges you to plan with a purpose, and gives a list of ways you can do this.
Q gives eight suggestions for writing quality posts.
R offers eight ways you can conduct research as an entrepreneur, a writer, or for a family blog.
S is for SEO Strategies for the blogger who wants to get her blog known.
T offers 20 ways to create fun and tempting titles.
U suggests ten tips to make your blog utterly unique.
V gives 17 ways you can make your blog truly valuable, whatever type of blog you are writing.
W looks at different takes on word counts. What works best? See the infographic for ideas.
X asks the question, "What is your  x-factor?" and gives some suggestions.
Y takes a republishing old posts and giving new life to the posts of yesterday.
Z . . .  well that's where you are. The combination of zing and zeal will help you build a better blog!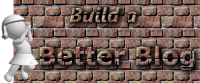 Now it's over to you. I hope you've found this series helpful. Please share below any particular point that you have found most helpful..
Please share links to your blog and as a final goodwill gesture, let's all visit one another!
I do hope you will return here. Sign up for notifications so you don't miss a post. I promise to never spam  you.
Sign up here to receive
♦ Write to Inspire ♦
a once-a-month News bulletin
with occasional Nuggets only when a new post is published.