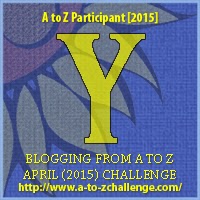 I grew up in Gwelo, Rhodesia (now Gweru, Zimbabwe) before moving to South Africa in my late teens. Years later, together with our three young children, we spent several years in Salisbury (now Harare), the capital city of Rhodesia.
Whenever we were able to, we traveled to Gwelo to spend time with my parents who still lived in my childhood home. Rich green lawns with lots of space for playing, a beautiful rose garden, and a swimming pool, made it an ideal retreat for us, and the children loved to spend time at Granny and Grandpa's home.
Towards the end of 1981, we moved the family back to South Africa. We drove the family to what would be their new home. As we walked up the driveway , our twelve-year-old daughter stopped, threw back her head and exclaimed, "Oh I love this house. It smells like Granny and Grandpa's!" We looked puzzled, and put it down to her creative imagination.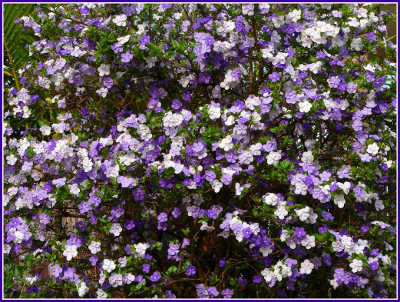 Only days later did we realize the reason. Outside the front door stood a large bush of Yesterday, Today and Tomorrow, a plant which grew in profusion back home in Rhodesia. Each time we walked out the front door, we were assailed by its fragrant perfume, just like at Granny's house!
Also known as Kiss Me Quick; Morning, Noon or Night; or Brunfelsia latifolia, this plant produces a spectacular array of pretty flowers. It remains in bloom for several months, with what appears to be three different coloured flowers.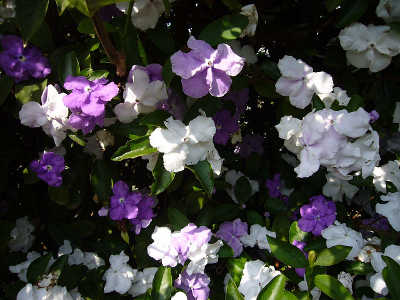 What actually happens is the flowers first appear in violet, then after one day they turn lavender, and the following day white, hence the name,Yesterday, Today and Tomorrow.
Although the individual pansy-like flowers only last three days, this unique plant has variegated clusters of incredible colour and amazing beauty. When in bloom, it sends off an exotic heady scent. Although the plant is not native to Africa, it does well all over the country and is a common garden shrub. Despite its beauty, the seeds of these plants are extremely poisonous and the berries are especially toxic.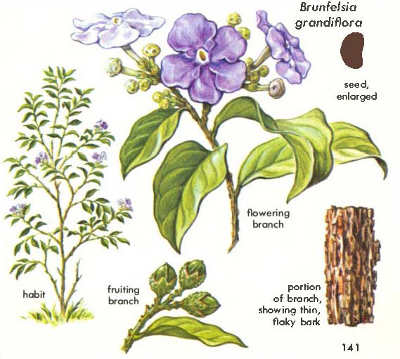 This plant serves as a great reminder to us of our approach to life. We should not live in the past. Yesterday is behind us. It will never come again. On the other hand, tomorrow has not yet come. All we truly have is today. We only have the strength for one day, and that day is today.
"So let us learn to live in the present. Sufficient for each day is its own trouble." Matthew 6:34