I loved my new job. By 11 p.m., I had handed out the medicines, chatted to those who were awake, completed the paper work, and all the patients were settled for the night.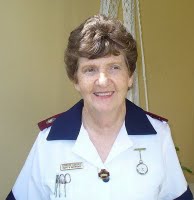 Apart from occasional rounds, or being called by one of the nurses to see a patient, or of course the occasional emergency, the night was mine—until 5 a.m.
I would settle down in my little office with a cup of coffee and a rusk and boot up my laptop. The office was far enough away from the ward to be quiet, but close enough that I could hear the bells or intercom. Around midnight, I would do a quick round, make some more coffee, and warm my supper. While I ate, I would read what I'd written so far, and then get back to writing.
Each meditation consisted of an anecdote or event from my year of treatment in the cancer valley. After I wrote the story, I would search the Bible on my computer for Scriptures that would tie in. To this I added a verse of encouragement, three thought-provoking questions to help the reader identify with the meditation, and a short prayer. By the time I went home in the morning, I had usually written a number of meditations and felt good. However there was a problem.
I have had a sleeping problem since I was about 30 years old. My night-duty hours were two nights on, then two nights off. Weekends alternated–three nights on, and the next weekend three nights off. My brain became even more confused than usual.
By the end of the first of two nights, I was tired and looking forward to climbing into bed. My husband, Rob, would have a warm breakfast waiting for me. As soon as I'd eaten, I'd climb into bed and go straight to sleep. An hour, or at the most two hours later, I woke up–bright eyed and ready to get up. That was no good, as I was on duty again that night. So I would spend the next hours battling to get back to sleep before finally giving up. I would go on duty tired, but a combination of adrenaline from all that had to be done, and caffeine from a liberal regular dose of coffee and chocolate, kept me bright for the evening.
Come the next morning, when I crawled behind the steering wheel of the car, I had to have the window open, the fan on and music playing for the drive home. As soon as I had breakfast, I fell into bed and within seconds I was asleep. For an hour or two. Then my brain pointed out what a beautiful sunny day it was outside, and here I was sleeping it away. And your point is . . . ?  Eventually I would give up and roll out of bed. The one good thing was that I was off duty that night, so I would enjoy a good night's sleep.
Or not.
My head sank into the pillow, and I breathed a deep breath of relief. Sleep!
Pow!
My brain sprang into action. How can you go to sleep? It's night time. You have to work. I spent most of the night fighting to get some sleep.
After several visits to the doctor and numerous "certain remedies for a good night's sleep," I realised this wasn't going to work. When I started to lose sensation in my hands and feet, and some nights found me off balance, I knew I had to give up my work and leave the patients I had grown to love.
The good thing was that I had completed a draft copy of my book and now had a month to concentrate on getting ready for the Florida Christian Writers Conference.
Part of my preparation for the conference involved a book proposal for Rise and Soar, including five sample devotions. Once I had the proposal as polished as I could manage, I wrote and edited a cover letter to go with the proposal. I then studied the conference material to see which editors would be in attendance. Which was the one the Lord had prepared to accept the book? I couldn't believe all these amazing answers to prayer were a co-incidence. It was now up to me to hear what the Lord was saying.
There were four possibilities who seemed open to my book. Five actually, but the fifth one was clearly not for me. This was Vicky Crumpton, the acquisition editor for Revell/Baker publishing. Revell had published Hope for the Journey through Cancer, a cancer devotional book written by one of my critique partners, Yvonne Ortega. Yvonne had just signed a contract with them for a second edition. They obviously wouldn't want another book of the same genre.
I carefully printed out five copies of the proposal, and five cover letters. I addressed four to the editors I saw as good possibilities, calling them by name. The extra one started with "Dear . . . " and remained blank. This was in case I needed it. Murphy's Law might just mean an editor would be at the conference whom I wanted to submit to, and I wouldn't have a personal cover letter. I wasn't going to be caught on the wrong foot.
True enough, that Murphy was at the conference–but he managed to catch me after all.