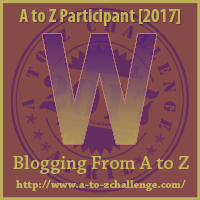 Disclosure: This post contains some affiliate links for your convenience. Click here to read my full disclosure policy.
One question that is asked over and over again in blogging circles is, "What is the ideal word-count for a blog post?"
Now that we've reached W in the A to Z challenge, it seems a good time to look further at this question. So
W is for Watch your Word-count.
Some will tell you readers have limited time to read, so short is best. They will tell you that you're more likely to reach more people and gain more comments, if you stick to short punchy posts.
Others say readers don't spend time reading longer posts, they will only skim the text, but if they spot interesting information, they will stop to read. Therefore the longer posts are better. Certainly the Search Engines are more likely to spot keywords in longer posts and, it is often argued, the longer the better from the SEO point of view.
When I first started blogging it was an accepted fact that the ideal word-count was around 500 words. Why? Because readers could see the post on their screen without needing to scroll down. That of course is no longer the situation, what with the smaller laptop screens and even smaller tablets.
Add to this the estimated 51% of readers who do most of their internet reading on their mobile phones.
We need to get our eyes off the word-count issue 

It is true that readers have little time.
It is also true they skim the text on the look-out for interesting information.
And it is true that the Search Engines are more likely to spot keywords in longer posts (and you also have more opportunity to use the keywords.)
But it all depends on what you have to say, who you are writing for, and how succinctly you can use your words.
The real key is what do you have to say, and how many words do you need?
It's not how many words makes an ideal blog post, but how many do you NEED? #atozchallenge.
Click To Tweet
There really isn't an ideal word-count 

but there are a number of factors to take into consideration.

Posts need to be at least 300 words

in order to rank well with search engines.
Provided you write well and include several keywords, you may be able to produce good content in 300 words—as long as you only have one main point you want to make.

Posts shorter than that, say around 250 words,

may well get more comments, although they will not rank with SEO.
You're not likely to be able to use enough keywords to satisfy the search engines, nor do you want to. "Keyword stuffing" will not only deprive you of quality, you may well be penalized by Google™.

A post of 1,000 words is likely to rank well,

but it is more difficult to write. You need to hold your readers' attention throughout.
You will need to make more than one point.

The highest ranking blog posts are often around 2,450 words.

But that's a huge word-count! Not everyone can write that length and hold the readers' interest.
It would be difficult to produce on a regular basis.
There's no point in writing that length of blog if no one is interested in the topic.
So before trying that length, it is important to ensure people want to read about your topic.

Longer blog posts are more SEO friendly

because they can absorb more keywords in the content without overload.
You will probably have more images, headings and links, which search engines look for.
You will cover more than one or two points, so if you think carefully about your keywords your post will turn up more on readers' searches.
The following infographic (which I hope will show up on the mobile screens) sums up the matter of word-counts.
Check out this infographic, the 'Ideal Word Count' for a blog post. . #atozchallenge
Click To Tweet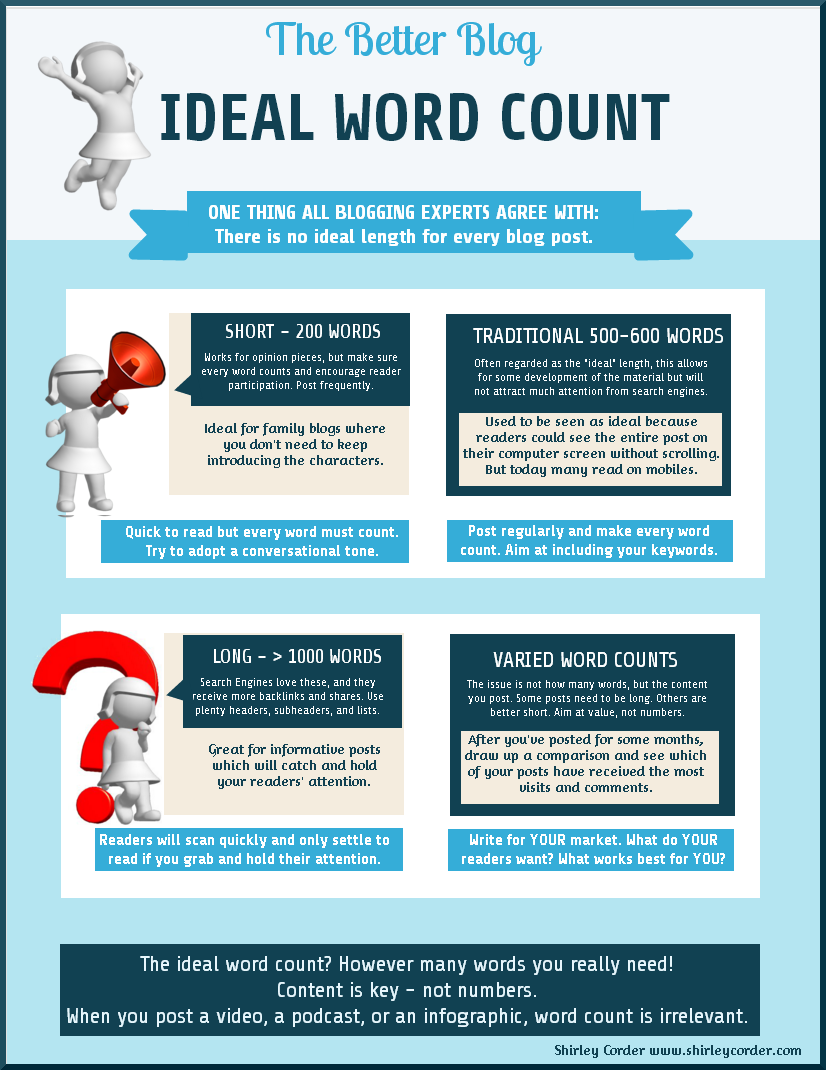 Over to you: 
What length of blog do you prefer to write?
What length do you prefer to read?
I'd love you to answer in the comment section below.
FURTHER POSTS TO READ:
Creative Content

Dogged Determination

Eager Enthusiasm

Fact or Fiction

Interesting Images

K for Kindle and KDP

L is for Live and Learn

M is for Marketing Methods

N is for Nuggets and News

O is for Ongoing Opportunities

P is for Plan with Purpose

Q is for Quest for Quality

R is Regarding Research

S is for SEO Strategy

T is for Tempting Titles

N is for Nuggets and News

O is for Ongoing Opportunities
Special offer on Kindle Publishing Made Easy, a hands-on course. Expires end April. #atozchallenge
Click To Tweet