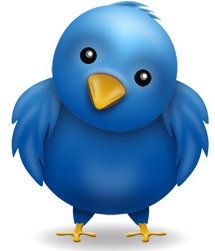 WHAT IS TWITTER?
* "Twitter is an online social networking and microblogging service that enables its users to send and read text-based posts of up to 140characters, informally known as "tweets", and images."(Wikipedia)
* "Twitter is a social networking and microblogging service that allows you answer the question, "What are you doing?" by sending short text messages 140 characters in length, called "tweets", to your friends, or 'followers.'" (Tweeternet.com)
WHAT'S THE PURPOSE OF A TWEET?
"The short format of the tweet is a defining characteristic of the service, allowing informal collaboration and quick information sharing that provides relief from rising email and IM fatigue. Twittering is also a less gated method of communication: you can share information with people that you wouldn't normally exchange email or IM messages with, opening up your circle of contacts to an ever-growing community of like-minded people." (Tweeternet.com)
Tweets are displayed on a single page that is updated EVERY SECOND. So the Twitter page is always up-to-the-second up-to-date. Think of FaceBook and Instant Message or SMS mixed together–but condensed. No room for wordiness. Each message may not be more than 140 characters in length. (A character is not just a letter. It includes the spaces between, as well as punctuation marks.) This makes it an amazing writing exercise if nothing else. To say something meaningful in under 140 characters is a challenge! But it's doable. And during this week, we're going to do some practicing.
WHY SHOULD I BE ON TWITTER?
1.Twitter is a way to develop on-line relationships with like-minded people.
2. Twitter is not littered with spam or adverts.
3. Twitter can be used almost anywhere: it takes only a few minutes to send a tweet, and they can be sent from most online gadgets including cellphones.
4. Twitter is an easy-to-use, fun form of communication–and it's free!
5. Twitter makes it possible for you to link up with like-minded people and share thoughts and opinions.
AS A WRITER, WHAT ARE THE ADVANTAGES OF TWITTER?
I keep stressing the need for a platform. This should be built up long before your book is published. It's never too late to start, but neither is it ever too early. The old days of the publishing house doing all the marketing for your book is over friend. You have to do your marketing, whether you self-publish or if you publish through a main publisher. I have a book coming out next year in America by one of the leading publishers, Baker Publishing House, and guess what? I have to do much of the marketing.
How on earth do I do that, when I live in South Africa?
I have to do it online. My book proposal included two A4 pages of ways I plan to do this, and yes–Twitter is an important part of my marketing campaign.
1. Twitter is a way to create a buzz.
2. Twitter is a way to let people know about your product.
3. Twitter is a way to connect with others who have similar products. They in return will want to connect with you. You can start to help promote one another.
4. Twitter is a way to market your book. Have you written an e-book and you don't know how to sell it? Twitter is ideal.
I'm going to stop there. There's obviously more I could say, but you can Google any questions you may have.
Have fun! Yours in Twitterdom, Shirl