Out of the Shadow Series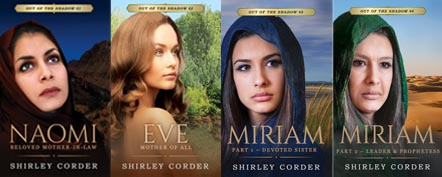 So far in the series, we've drawn three lesser-known ladies out of the shadow that hovers over them, and see them for what they really were: real live flesh-and-blood women.
We looked at Naomi out of the shadow of Ruth; Eve out of the shadow of the Garden of Eden; Miriam out of the shadow of the baby in the bulrushes; and out of the shadow of her brother, Moses.
Many have asked me, "What next?"
I guess that should rather say, "Who next?"
I am torn between doing another in the series, or taking a detour to publish a book of 365 devotions based on lesser-known Biblical women.
I could do the devotional book in two possible formats.
Write all 365 devotions then publishing them in one book. This will obviously take longer.
Publish 91 devotions per volume, until there are 365 in total, then assembling them into a boxed set. This will be quicker to produce.
I have already drafted many of these, so all going well, the 365 would be out by less than halfway through the year, whichever way I do them.
Some of the women I would cover are: Hagar, Jael, Leah, Shiprah, Tabitha, Salome, and many others.
So my question for you is, "What next?"
I'd love your input. Thank you.
I do hope to do both options, it is just a question of which one first. In other words, "What's next?"
Please check off the box you would prefer.