Why did I get Cancer?
After I was diagnosed with cancer, I had no idea why I had got the disease. The interesting thing I soon discovered that everyone else seemed to know. They showered me with suggestions on how to fight it, ways to improve my health, and above all, why I had it in the first place. And it all seemed to be my fault!
I became so overwhelmed by all the free advice and not-so-free treatment suggestions I didn't know where to start. As I read about the disease, I learned that the cancer cells were actually weak and confused – not at all the giant enemy I had visualised.
I soon decided, "It's not a case of what caused my cancer, but rather how am I going to deal with it."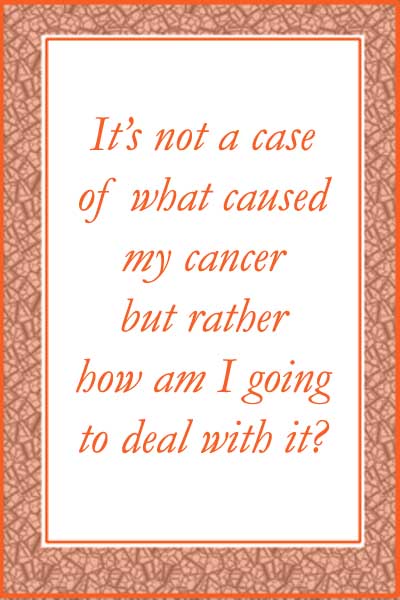 It's not a case of what caused my cancer, but rather how am I going to deal with it.
Click To Tweet
How will I deal with it?
Perhaps the cruelest advice I received, at intervals throughout that terrible year, was the best intended.
"Shirley, put your trust in the Lord!"
The words TRUST THE LORD can cause hurt in the person who IS trusting the Lord. We need to watch our words.
Click To Tweet
I am a committed Christian, so why do I say this was cruel?
It implied to my over-sensitive mind that people thought I wasn't trusting Him. It made me feel that perhaps, if I really had faith, I would not subject my body to all this treatment. Is my faith at fault? I often wondered.
Trusting the Lord
One day when I was reading my Bible, I came to the well-known twenty-third Psalm.
Next time someone asked me about why I didn't stop treatment and trust the Lord, I opened to that passage.

"David says 'Even though I walk through the valley of the shadow of death, I will fear no evil,'" I read. "'For thou art with me. Thy rod and thy staff, they comfort me.1'" I pointed to the verse so my friend could read with me. "Lynne, where will I find the rod and the staff?"
"In the valley of the shadow of death?" she read the words slowly, doubt creeping into her voice.
Thy rod and staff they comfort me. And where are they found? In the valley.
Click To Tweet
I nodded. "I have no idea why the Lord wants me to go through this valley," I said. "Nor do I understand why He needs me to pick up a rod and a staff. But, Lynne, I trusted Him with my life many years ago, and there is no going back. He wants me to go through the valley and collect the rod and staff. Then He will comfort me. He will go with me."
I hoped I appeared more confident than I felt, yet I knew that what I said was true. I had to keep my eyes on the Lord. Then I received these beautiful words from my daughter's mother-in-law.

I remembered those weak, confused cells my doctor had described to me. They were indeed so limited.
Yes, the war against cancer was beginning to hot up, but I had a wonderful family, many dear friends, and a countless army of prayer warriors throughout, not only South Africa, but overseas as well. Most important, I had the Lord on my side. The enemy might appear threatening, but "Greater is he that is in (me) than he that is in the world."2 I drew a deep breath, and prepared to move into the unknown.
Cancer is so limited. It is made up of weak, confused cells. See a list of things it can't do.
Click To Tweet
[1] Psalm 23 verse 4
[2]  1 John 4 verse 4