Thursday 16th April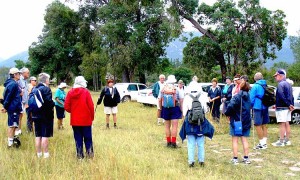 One of the groups we have linked with here in Port Elizabeth is SAARP, the South African Association of Retired Persons. Each Thursday we join with a hiking group to walk along a trail somewhere in this beautiful Madiba Bay.
Today we walked the River Walk at the Van Staden's WildFlower Nature Reserve.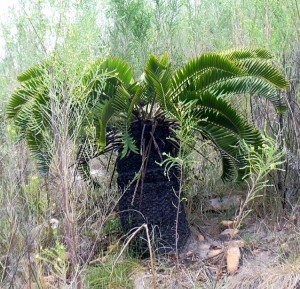 This 450 hectare resort is about 40 km from Port Elizabeth on the road to Cape Town. This area is awash with different species of Proteas and other fynbos, indigenous flowers and plantlife. The photo here shows a large Cycad in its natural habitat.
We climbed down the side of the kopje overlooking the gorge, which is a mass of coastal forest. Although the resort is a paradise for bird watchers and raptors may often be seen flying high in the sky, we didn't see much in the way of birdlife today.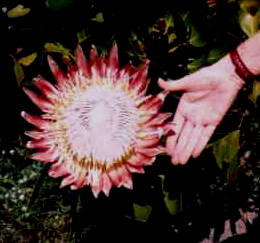 On the right is the King Protea, the national flower of South Africa.
The beautiful Strelitzia Reginae is famous across the world, but is indigenous to South Africa, where it grows wild in the Eastern Cape. The weather was cool and the sky overcast. This was good for the demands of the hike, but not conducive to good photography.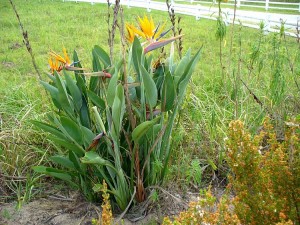 Climbing the stony path required our full concentration as we climbed down into the gorge and back up the other side. We had a beautiful view of the Van Staden's River Bridge in the distance. This majestic arch bridge was for many years the largest bridge in the southern hemisphere.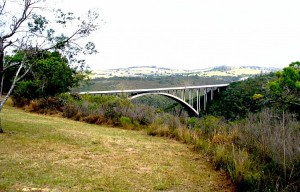 Unfortunately it has developed a bad name due to the number of suicides that take place here. Jumpers leap from the bridge into the gorge, facing certain death on the rocks below. Here is the bridge taken from a distance where we stopped for our rest-break.
Far down in the deep undergrowth we saw a stark white wooden cross. After the 2.5 hour hike, the group went off to a nearby picnic site to have their customary braai, while we headed home as we had an important meeting to attend.