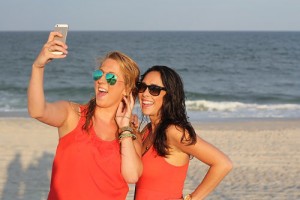 What is the most important word you can use in your blog?
Do you want to know what the most important word is that you can use in your blog? Well to give you a hint, it has been used five times so far.
Once in the title, once in the sub-title, and three times so far in the article.
You've guessed it. It's the word YOU.
I recently upgraded my cellphone and was surprised to find it was not only possible to use the camera feature to take photographs. With only a click on an icon, I can switch to using a second lens, hold it in front of my face, and the camera will take a self picture.
Look around wherever there are people and you'll be sure to spot a couple sitting or standing close together, grinning into a camera. And of course, we're talking about a "selfie".
You can even get a "selfie stick" whereby you perch your cellphone on the end of the stick and press the remote button, making it possible to take a photo of yourself and those around you.
An interesting search on Google Adwords, finds the top twenty words that will draw the most traffic to my—and your—blog. Apart from the words the, a, this, and to, the most used word in headlines of posts that went viral is the word you. Your also appears in the top twenty.
What does this mean? Most important, what does it mean for you as a blogger?
Let me rephrase that. You really need to pay attention to a word that is so important. Why is the latter sentence a better way of putting it? Because it's addressed to you. It's using that all-important word.
So let's look at this in more depth. 
Why is the word YOU so important?



What is the most important purpose of your blog? Click To Tweet Readers! No readers—no point in the blog. Therefore you need to address them in whatever you have to say.
Your topic needs to interest them, so they want to read it. Otherwise they won't continue reading.
Your title, tweets, FaceBook and other promotional entries need to address their needs. So use you in these areas again.
As you address their needs, you in turn will benefit. Your readers will want to read your posts, and they will want to come back.
"People don't care how much you know, until they know you much you care. John Maxwell"
We all care about "I", "Me", "#1".
If you reader gets nothing out of your blog, he won't come back. So if you want him to come back, you need to make your blog of interest to him (or her). In other words, you need to make your blogs of interest to your readers. You need to write for them and their needs. In other words, you need to address you.
You may notice that I've used YOUR quite a few times in the above section too.
How Can You Use the Most Important Word in Your Blog?
Don't write for yourself. Write with your reader in mind. (See Who Are You Writing For?) Address the YOU that you write for. Who is in your audience? Write to them. Speak about things that matter to them. Encourage them.
When you're finished the post, go back and check. How often have you used words like YOU, YOUR, YOURSELF, etc? If it's not often, look to see how you can rephrase to make the article of greater interest to your reader. (Don't overload your post, now. That will only drag your rankings with Google right down. You're not trying to see how often you can use the word. You're trying to appeal to your readers.)
See if you can use it in your title or at least your subtitle. This isn't meant to be a gimmick. It's meant to remind you how important your reader is.
In an article on Copyblogger Brian Clark shares an experiment by social psychologist Ellen Langer. She performed an experiment where she asked to cut in line to use a copy machine.
Her first attempt she said, Excuse me, I have five pages. May I use the Xerox machine?
60% said yes.
Attempt no. 2 she said, Excuse me, I have five pages. May I use the Xerox machine because I'm in a rush?
94% said yes. Evidently by giving the reason because I'm in a rush the request received a better response.
Her 3rd attempt is interesting. Excuse me, I have five pages. May I use the Xerox machine because I have to make some copies?
93% said yes!
When my little brother went through that tiring 'Why?" stage, he would ask the question over and over and over. "Why?" "But why?" "No, but why?"
Eventually someone would say, "Just because!" and that seemed to satisfy the little boy.
In that experiment by Ellen Langer we see the importance of the word because. 
So once you have written your blog to address You, see if you can also tell them because.
It all goes to show how important the word You is . . . because You are important!