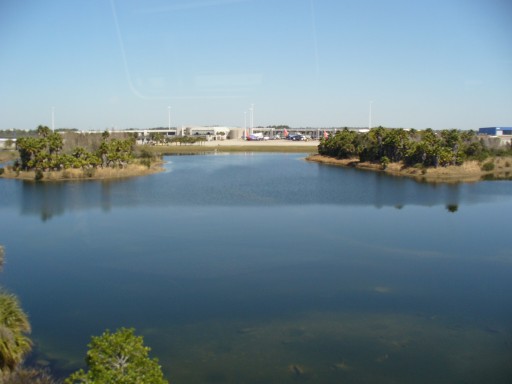 March 8
11:00 The Orlando Airport has to be one of the most beautiful airports in the world.
It is built in a hub-and-four-spokes format, with each of the spokes leading to an air-side concourse.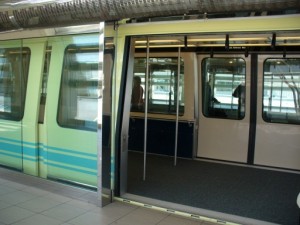 You travel by high-speed monorail across a huge lake to the concourse and then walk to the gate where you will meet your plane.
13:30 – 14:07 The trip from Orlando to Atlanta was spectacular. Bob, my friend from the trip into Orlando had pointed out how low the watertable is in Florida, so this time I was armed with my camera.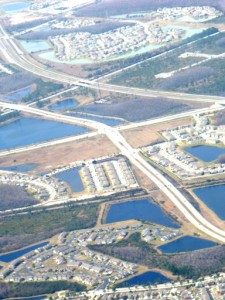 I would have liked to get out of the plane and wash the windows but didn't think it advisable.
I had a few hours lay-over at the Hartsfield-Jackson Atlanta International Airport, the world's busiest airport since 2002.
It was amazing standing at the window staring at the huge plane that would shortly take me on a 16 1/2 hour flight across the Atlantic Ocean.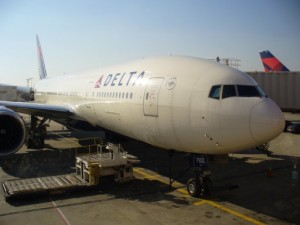 8:55 Florida time – March 9, 17:05 S.African time It was a long, long flight, yet not as bad as the way to America, as the plane wasn't full.
I had also finally managed to wangle an aisle seat, so I could get up and move around as I wanted to. Because there were seats to spare, the crew moved us around so there were only two passengers to three seats. Much more comfortable.
It was a very bumpy flight, and we had our seat belts fastened for a good deal of the trip. As I gazed down at the lights of America I wondered if or when I would ever be there again.
The shades were kept closed throughout the flight, and the cabin remained in darkness until two hours before landing. Then as the shades went up, we gazed at the desert land below us. We were over Africa.
A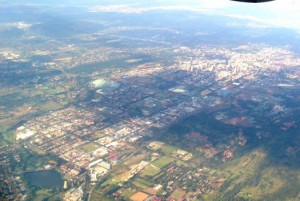 fter breakfast, the plane started to descend, and before long we were over the city of Johannesburg.My sister-in-law and nephew were there to meet me, and we drove to their home, not far from the airport. My brother is unfortunately in France, so I won't see him this time.
23:00 Marion, who was supposed to have come with me, has just been to see me. Her husband, Noel, drove her over to spend the evening with me. She had her X-rays and scan with her and my goodness! What a mess!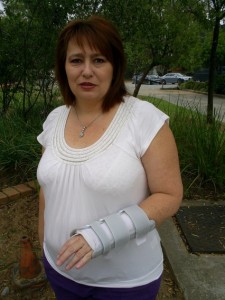 Praise the Lord, the surgeon seems to have done an amazing job with her surgery but she will boast a bionic wrist for the rest of her life. It's still in a cast and will be for another few weeks.
We spent a good few hours with me telling her all I could about the conference and showing her my photos which were still on my camera. In addition to some freebies and handouts, I took her a copy of Jeff Gerke's new book, "The Art & Craft of Writing Christian Fiction." I made several attempts to get Jeff to autograph this, but each time I had the book with me, I couldn't find him, and when I left the book in the room, there he was. Typical.
And so the Florida Conference Adventure is almost behind me. Only one short trip to go.
March 10 Straight after breakfast, Denise took me to the Oliver Tambo International airport. I booked in, and walked towards the departure gate. I stopped to adjust my jacket, and heard a frantic voice calling, "Mrs. Corder!" I turned in surprise. The official who had booked me in had chased me across the concourse, waving my passport and ticket. I'd left them on his desk.
I've travelled all these thousands of miles and I nearly lost them in Johannesburg! It's time I got home!
10:15 – 11:55 The plane took off ten minutes late but landed in Port Elizabeth ten minutes early. As the plane dipped over the sea I stared down at the beautiful coastline of South Africa's Windy City, and my heart soared. It's been a long way and an amazing time. A lot of work awaits. But it's good to be home.
So with a final, "Thank you Billie and faculty for all your hard work. And thank you Cecil Murphey for making it possible for me to be there!" this is Shirley Corder in Port Elizabeth, South Africa, signing out from the Florida Christian Writers Conference Adventure.