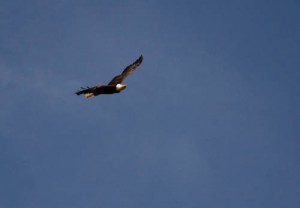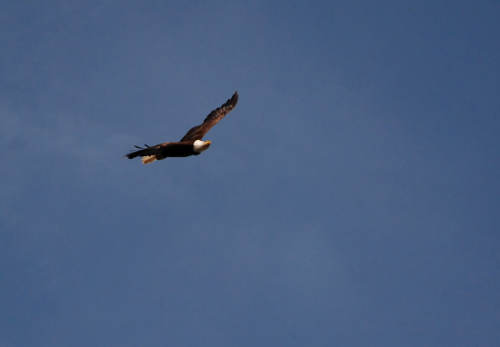 During my rigorous months of chemotherapy, one of my favourite haunts was the Walter Sisulu Botanical Garden not far from our home in Krugersdorp, South Africa. There we would sit and watch for the appearance of one or both of the Vereaux's eagles that nested high on a cliff overlooking a rocky valley. Little did I know what those eagles would one day mean to me.
A verse of Scripture that meant a tremendous amount to me during that period came from Isaiah: They that wait upon the LORD shall renew their strength; they shall mount up with wings as eagles. . ." Isaiah 40: 31 (KJV)
I often wished I could be like those eagles we watched through binoculars. How I longed to stretch my wings and soar above the cancer valley.
One day, as I prayed about the book, a working title sprang to mind: Rise and Soar with Over the Cancer Valley as a sub-title. I knew a publisher would likely change it, but for that time the title covered my dream for this book. I prayed that many would one day read it and learn to rise above the rigors of cancer. I prayed that as they spent time reading the book and the corresponding Scriptures, their strength would be renewed.
Throughout the next months, I continued to pray for Rise and Soar. I prayed for ideas for the meditations and started to draft them out as I thought of them. Some of the original ideas even got published in devotional markets, using the publications' own formats. I grew more and more excited about the upcoming book, and I continued to pray I would hear from the Lord when the time was right .
Several years later, I sensed the time had come to start work in earnest, and I began to write the meditations and submit them to my critique group.
A few weeks later, I was approached to do a spell of night-duty as Night Sister in a frail care unit. ("Sister" is the title for a registered nurse in South Africa.) I agreed, only when they promised me a room to work in, and gave their blessing to me working on my laptop when the residents were asleep. Much though I loved nursing and longed to take up this opportunity, I had to keep working on Rise and Soar.
I had no idea how I would ever find a publisher, but that was the Lord's problem. If He wanted me to write the book, that was what I would do, night duty or not. I trusted God would have a plan for the book once I'd finished it. And what an exciting plan it turned out to be.
But that's another post for another day. Wait until you read the amazing next step in the journey toward publication.