SUNDAY 5th. OCTOBER: I'm really here! Geni and I entered the beautiful set of conference buildings and were greeted by Jim Watkins, conference co-ordinator. As soon as he heard my name, he smiled and said, "We would like to interview you on stage this evening about your writing experiences in South Africa."
This seemed crazy. I had come all this way to have experiences, not to share them. Most of my writing experiences have been through the Internet.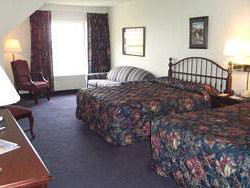 We soon found our beautiful bedroom with its king-sized beds, en suite bathroom and small dressing area. As we put our cases down, Geni handed me a large manila envelope. It was stuffed with cards, envelopes, and printed-out e-mails, all from members of the CWG list. One came from Lisa Wiener, the list moderator, and included a phone card with 360 minutes worth of paid calls to South Africa. What an awesome gift! Rob and I hadn't expected to speak to each other at all for five weeks.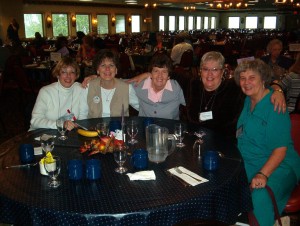 After selecting our supper from an incredible buffet table, we made our way into the dining room. There was an immediate Whoop and three ladies leapt up from a table near the door and descended on us laughing and greeting us with hugs. They were the other CWG delegates attending Sandy Cove, easily recognised by the small strips of red ribbon we'd agreed to wear for easy identification. What fun. We had been sharing with one another for the past few weeks through e-mails, and it was wonderful to put faces to names. It was like having a ready-made family.
After supper, I made a quick phone call to a very surprised and sleepy husband. I had forgotten the time difference; it was past midnight in South Africa. Praise the Lord for a great relationship. He was thrilled to hear from me.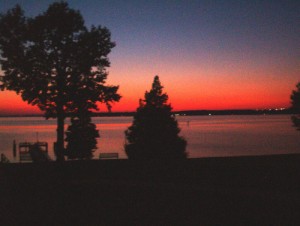 I sought out Bonnie Brechill, nicknamed "Queen of Manuscripts", and gave her my two 25-page book proposals for evaluation: my non-fiction work, Victory Over Cancer, and my incomplete novel, Hidden Agenda.
Waiting for the evening session, a few of us stood in awe, gazing through massive plate-glass windows. The Lord had painted us an incredible sunset over Chesapeake Bay.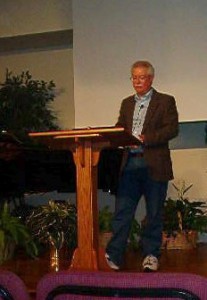 The evening session started with a wonderful time of worship led by Jeff Vogan, a skilled pianist and singer. I had begun to hope that Jim Watkins wouldn't call on me. However, after the time of worship, he announced that there were always people who "stood out" at a conference and that this year the person who had travelled the furthest was "Shirley Corder of South Africa".
As I walked onto the stage I wondered, "How did this happen? And what on earth am I going to say?"
Jim asked me, "Shirley, how did you get here?"
I responded in typical Shirley fashion, "By plane?" and everyone burst out laughing.
Jim asked, "Yes, but I know you have an amazing story. Tell us how it happened." And he handed me the mike.
That was easy. I told them the story of the past few months; about the non-existant finances, the Prayer of Jabez course, the scholarship, the deleted e-mails, the prayer. I told them how I prayed "Lord, enlarge my territory" several times a day. "Lord, enlarge my territory," I clarified. "Delete . . . Lord, enlarge . . . Delete."
As I spoke, the audience responded to me with hilarity. How much was what I said, and how much was my accent or my rapid-fire way of speaking, I don't know, but their reaction relaxed me and it was fun. From that moment on every person at Sandy Cove knew me as "the gal from South Africa".
So much for remaining in the background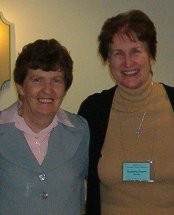 Francine Rivers then took the podium and shared her life story and how she came to write Christian Fiction. She turned out to be lovely person with no airs or graces. She bared her soul, sharing how the Lord had brought her from a hard place to where she is today. She told us how each of her books is written to address a need and gave us the background to each novel.
After the official programme we were encouraged to "visit with one another". This American expression means to chat together. Many folk came to greet me, and many expressed surprise at my white skin. When I said I was born in Scotland, their expression would clear. Then I'd spoil it by saying, "But my husband, three children and their partners were all born in South Africa and they're white too."
We moved on to seminars of our choosing. Three of us went to Orientation for First-timers. After the session, I walked back along the corridor with Debbie Botham. As we stopped outside her bedroom, I glanced at her number and remarked, "Oops! I'm lost. I should be on another floor."
A voice behind me said, "Shirley." A pleasant looking lady about my age introduced herself as Mary Lou Redding, the Upper Room editor with whom I'd had e-mail communication. We chatted as we walked, and she remarked, "It takes a special kind of person to get lost in a corridor!"
We laughed, and I admitted that I could get lost anywhere. She shook her head and remarked, "Well I'm amazed at your faith, that you've travelled half way across the world on your own." We walked together to the landing, and she pointed. "Your stairs are over there."
I didn't want to admit that I couldn't see any stairs, so I just thanked her and walked confidently in the direction she indicated. When I faced a blank wall I stopped. Then I heard a soft call, "Shirley?" I turned and saw her standing laughing. She pointed to a door I hadn't noticed. "Stairs!" (How to impress an editor in 3 easy steps!)
When I eventually arrived in my room, I sat on the bed and savoured the wonderful package of mail from my on-line friends at CWG.
MONDAY 6th. I slept very little. I am a very light sleeper and so always use a tape player and soothing music when I am in a strange place. However I couldn't get my earphones to work.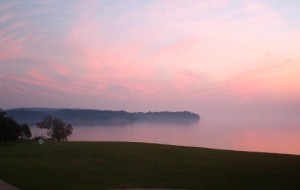 Geni and I attended Early Morning Devotions, led by Deni Williamson. She introduced her theme for the week, "Knowing a Tree by its Fruit", by giving us each an acorn, pointing out how inside that acorn was a full oak tree waiting to grow.
During breakfast I was unobtrusively slipping my pills from my pocket into my mouth, when I caught myself about to swallow the smooth nut of the acorn, which had come loose from its rough cup-like base. That's what you call absorbing the message!
Following an interesting breakfast we attended "Good Morning Sandy Cove", a light-hearted early-morning programme run on similar lines to a radio talk show, where each person teaching that day had 30 seconds to present the material to be covered.
I signed up for the non-fiction track led by Roger Palms, a colleague of Billy Graham, who used to be the editor of Decision magazine. We finished at 11:00 with fifteen minutes before the next session. I was desperate for a cup of coffee. There were two machines outside the dining room. The sign said, '75c'. Next to it stood a change machine for one-dollar bills. However I hadn't yet broken any currency, so I went to the gift shop across the corridor and bought a postcard. I asked the lady for change "for the coffee machine" and returned to the machine.
I looked at the three coins she had given me, which looked like 20 cents each and a few coppers. She couldn't have understood. Back to the shop I went and explained my predicament. The lady looked at the change then pointed to the three silver coins. "25 cents, times three. 75 cents!" She laughed, and I sheepishly returned to the machine.
I followed the instructions, inserted my money, selected my coffee, and pushed the button. Pleased with myself I stood back and watched as the machine churned and swirled then poured the coffee down the drain!
The instructions failed to say, "Insert cup". I guess you're supposed to know that. In South Africa that just happens! Returning to the shop I asked the lady to change a $10 note into ones. She must wonder what a dim person like me is doing at a writers' conference!
After attending "Introduction to Online Writing" by John Riddle, I headed for lunch, where I sat with the CWG group and others, including Virelle Kidder from Today's Christian Woman. She leaned across the table and asked me, "Do we have an appointment?"
When I said no, she added, "Well, I think we do now. I'd like us to chat." She had reviewed my non-fiction manuscript and wanted to chat about my writing.
In the afternoon, there were "Editors' panels" in the dining room. Each editor sat at a round table, and folk had fifteen minutes to ask questions. Then a whistle blew, and everyone changed tables. This was informative at the time, but I must confess that I don't remember anything I learned, and there was no opportunity to take notes. I should have had my tape recorder with me.
At 16:00, I attended a fascinating workshop on Evangelistic Writing by Roger Palms. Dinner was at 18:00 and by 19:30 we were back in the auditorium. Jeff Vogan again led the worship on a great ebony grand piano. Stephanie Grimes from Today's Virtuous Woman shared with us her success story of a magazine which has grown from a newsletter into a full glossy magazine in just a couple of years.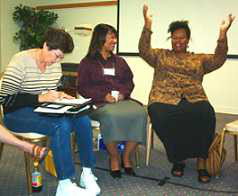 Sharon Ewell Foster then regaled us with stories of her youth, sharing how she became a famous writer, with her only manuscript "stained with coffee and jelly" (jam to South Africans). She was actually launched through Sandy Cove a few years ago. Once again an ordinary person, yet with a story to tell.
At 21:30 I attended the autograph party before falling into bed after 23:00.
Tuesday 6th We were up at 06:30. Again I had hardly any sleep. How I wished I could fix my earphones. After devotions by Deni we tucked into an interesting breakfast. The breakfast menu that day included creamed beef, potato hashbrowns and other fascinating things like chocolate brownies and waffles with syrup. An amazing meal, so different to the South African meal. My stomach couldn't face chocolate doughnuts for breakfast.
I enjoyed Roger's non-fiction workshop then collected a coke in the hope that it would wake me up for the next session. I wasn't sure whether I was jet-lagged or sleep-deprived, but I was starting to feel desperate.
Lunch was wonderful as usual and we discovered a salad bar in the middle of the dining room. At 14:00 I went to Claudia Tynes teaching on "Writing as a Ministry". I found it difficult to retain anything she said. Not a reflection on Claudia's teaching by any means. I was just so tired. I skipped the 16:00 session and tried, unsuccessfully, to sleep. I gave up, fetched some cappuccino from the machine and went and sat overlooking the lake for half an hour.
At 17:15 I had my appointment with Virelle Kidder. She is a super person. She was very encouraging and enthusiastic over my style of writing and asked me if I had considered writing a novel. When I replied that I actually had a novel with me, but I had been unable to finish it because of a family crisis, she questioned me further. We ended up sharing about our mothers, and then ended the session holding hands and praying for one another, and for our two moms.
The plenary session this evening was great once more, with the worship led by Sharon Elliot and a motivational talk by Francine Rivers. She made the observation, "When you feel comfortable, God is about to change things . . . " How often Rob and I have experienced this in our ministry.
"Poet's Night Out" followed at 21:00. I gave it a miss, and had a warm shower and early bed. To my joy, and frustration, I found the hidden volume switch on my earphones, so settled down with loud music, hoping to hide the sounds of Geni's return. At 01:30 in the morning, I awoke for the first time. The music tape was finished. Geni was sound asleep, so I buried myself under the blankets so as not to disturb her, turned the tape over and slid the volume control up high. I put the earphones back on and then reached for my water glass. In the process I leaned on the flex between the earphones and the tape player. Suddenly Bruce Gardener, a South African pianist, blasted out into the night air as I accidentally yanked the chord out.
As I furiously grappled to reconnect it in the dark, Geni shot upright exclaiming, "What? Where?" I got the machine under control and apologised but she was already fast asleep. I confess that I lay and giggled under the blanket like a naughty child, a combination of amusement and sleep-deprivation!
WEDNESDAY 7th After morning devotions, we attended our last teaching sessions of the conference. At 10:30 Jim Watkins led us in a moving Commissioning Service. We stood and covenanted to do our part in taking "The Word to the World," Sandy Cove's mission statement.
As we stood for the closing prayer, the five CWGers linked arms, aware that a special link had been forged between us through this conference. Debbie left to travel to Paris with her daughter for a musical performance. The rest of us stayed on for a 24- hour writing retreat.
Following the benediction, there was a flurry of goodbyes. I was amused by the number of people who wanted their photos taken with me! What it was to be "the gal from South Africa".