One of the wonderful perks of retirement is the freedom to 'be busy' doing things we've never done before. For us, one of the great benefits of living in Port Elizabeth is the number of places we can go that we've never been before.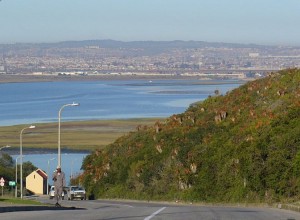 One clear, sunny day, a group of over 30 of us, all pensioners, walked the Aloe Trail at Blue Water Bay, outside the city.
We met together at a parking lot overlooking an estuary. The distant hum of traffic reached our ears, yet a sense of peace seemed to separate us from the business of life.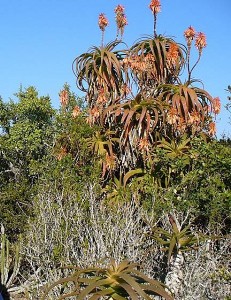 As we cut into the bush, we immediately came across a magnificent show of aloes. June / July are the best months to visit this area, as the aloes make a magnificent show and attract many sunbirds.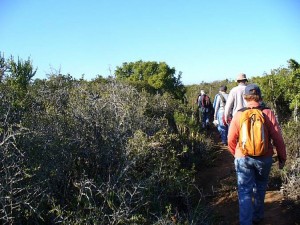 We walked single file along a stony path with dense shrubbery on either side.We had a choice of two trails: one of 3 kms and one of 7kms. Each route was clearly marked by yellow (short walk) and red arrows painted on small boulders alongside the path. Despite these markers, we managed to miss our turning and had to do an about turn, adding several kilometers to the distance.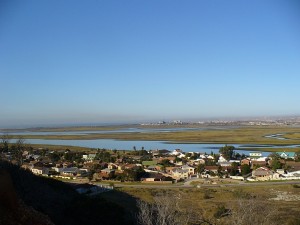 The trail took a circular route along an escarpment overlooking the village of Amsterdamhoek, named after a Dutch man-of-war which ran aground near the mouth of the river in 1817. At various spots we enjoyed amazing views of the sea, Port Elizabeth city, the Zwartkops Nature Reserve and the saltpan along the sea edge.
We sat on the edge of the embankment overlooking the river far below and enjoyed a picnic snack. At one point we could see as far as Uitenhage and the Cockscomb, the highest peak in the Winterhoek Mountains.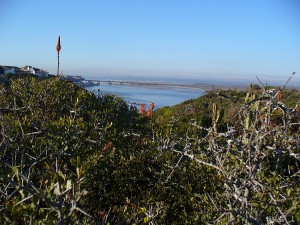 We returned through bushveld along the plateau. The ground consists of shallow clay soil on top of sandstone and those of us who wore takkies (running shoes), and not traditional hiking boots, had pretty sore feet by the end of the hike.
Stunning displays of aloes together with different species of vegetation showed how the ground has adapted to the arid conditions of the area. We saw plants with waxy, tough leaves that could retain moisture, and others with fierce thorns to protect them from animals.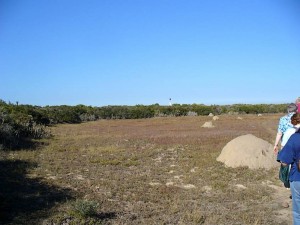 We passed many rubbery spekboom trees, a favourite snack of the large herds of elephant which used to live in this area. The trail also took us alongside several old wallows, where these gigantic beasts used to enjoy mudbaths in the rainy season.
The weather couldn't have been better. Despite a chill in the air, the sun shone from a cloudless blue African sky with no sign of the forecast rain.
Once again I marvelled at the amazing creativity of God, who produced a world that even He could say "was good".