Happy Thankful Thursday everyone!
This week's tip
My tip for you today is one I've learned before in theory—but then I forgot! Then today, I experienced it again in practice.
As you'll see as you read through these thankful points, you'll see how today was different for me. I'm not going to repeat how or why as it's already written under the thankful points. But as a result of the way my morning panned out, I was stuck at a restaurant with only my laptop and a list of things that needed to be done.
Then I discovered the restaurant had free WiFi. Woohoo! I decided to forget about my to-do list for the next few hours and concentrate on writing this post which needed to be scheduled for later this week.
And that's the point.
ALL I did (apart from drinking a whole pot of Rooibos tea and eating some fruit salad) was focus on this one post. Result? By the time my husband came to fetch me, it was finished, except for adding the graphics (which I needed to do at home on my desktop computer) and formatting the SEO.
Had I done this at home, I would have checked Facebook a couple of times, checked email at least once, updated my Fitbit (more on that later) and gone looking for more graphics to use on the images. I would also have "had" to make myself tea or coffee several times, and send and read several Whatsapp messages.
So there's the tip for this week which I intend following myself.
When you sit down to work, choose what you're going to focus on—and don't stop until it's done! If it's a longer task, split it into sections (on your lists) and focus on one section until it's done.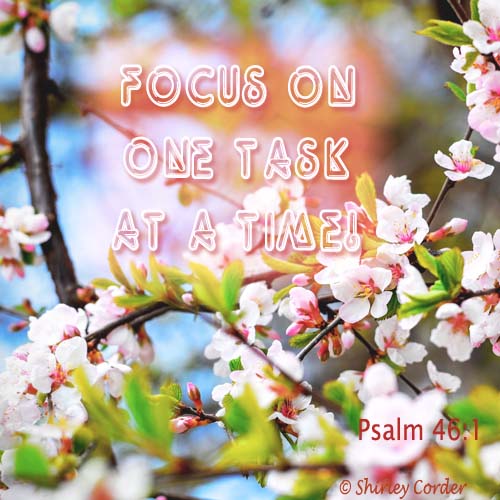 Let me know in the comments how you find this works for you. It excites me. And yet it is so obvious! (DUH!)
And now onto my list of thankful points for this week.
Here's the next 39. Actually 46. I got carried away!
Getting organised:
Last week, most of my Thankful Thursday was taken up with the proposed publishing of my book, Naomi, here in South Africa which is no small undertaking. I'm thankful to report all is on track for a launch on July 28th.
Everyone I've mentioned it to, has been enthusiastic, which encouraging.
Last week I shared the quote below by Benjamin Franklin. I'm so happy to report that so far plans are going ahead!
'If you fail to plan, you are planning to fail.' ~ Benjamin Franklin. Click To Tweet
As I shared before, I am a lister – i.e. I thrive on lists. I was interested to see how many of you are too from your comments! When I first realized I had a book launch coming up, I cleaned off my white board so I could start on  on my lists and have them up on the wall. Thank you for that white board which has seen me through so many crisis situations!
It took me several days until finally one evening I sat down and set to work. I'm thankful to report I now have not one, but four lists to check off as I go.
The four lists to focus on
The first list on the left (in black) is for the 26 posts due for my A to Z blogging challenge, "Improve Your Life, Improve Your Mind." You can see at a glance how few posts I've completed! My goal is to finish them all and have them scheduled by the end of March. Hmm. That's the end of the week. Time to get focused! I'm thankful that I've got a number of thoughts on other letters, but it's time for action, Shirley! Not just thoughts! Focus, girl! Focus!
The second list (in blue) is a list of all 52 posts due for this year on this Thankful Thursday 2018 Challenge. As you can see, I'm grateful to report I'm up to date (and still need to check off this one later today)—and at least I have until the end of the year to complete this list.
The next (black, two rows) list is for Naomi ~ Beloved Mother-in-law. This is where it gets really interesting.
> ALL these points have to be completed by the last week in April if Sacha (my eldest granddaughter) is going to be able to collect them when she's in Cape Town.
> What I'm really thankful about here is that I'm busy augmenting the Reflection sections. With Naomi being the first of the series, I kept these short, and I think they're too short.
An additional improvement to Naomi is that I've got my husband drawing pencil sketches to go between the sections. I'm so thankful that he draws beautifully! The book is going to look lovely!
The final list on the board is for the Book Launch, and that will be growing as the days go buy, I'm sure. So far things are falling into place, and I'm happy I now have a concrete list to focus on.
I'm excited to report I have a lady who actually OFFERED to be in charge of the book sales. How awesome is that? I am NO good at selling my books – or anything else for that matter!
My Different Sunday Morning
I'm breaking into the list topic to express my gratitude for a lovely fresh fruit salad that I've just been served! I'm working in a restaurant as I couldn't go to church with Rob for reasons I'll explain shortly. So he dropped me off at the restaurant with my laptop and right now he's preaching while I have worship music playing through my mp4 player!
So yes, thank you I have a great little mp4 player full of music.
The reason I can't go to church is so strange. My throat (vocal cords) are not healing as fast as I'd hoped, so I've now spoken to a trained voice expert. I've been told to take one week total voice-free. No talking whatsoever. Now for those of you who know me in the flesh, you will understand This is ridiculous!!!! There are many things I am able to do. Going without talking is NOT one! But I need my voice back. So I'm trying very hard! Thank you for an encouraging husband!
This Sunday, Rob is preaching at Jeffrey's Bay, a seaside town an hour from where we live in P.E. so I came with him to keep him company. But if I go to the service, I am going to HAVE to talk! Hence the restaurant and the laptop (and the yummy fruit salad!) So what is there to be thankful for in having no voice for a week? Think how much work I should be able to get through instead of chatting to friends or Rob!
A new focus for me!
Two days ago, my friend Carol arrived to lend me her old Fitbit which she's replaced due to a problem with the strap (which is no problem to me at all.)  Do you know the Fitbit? I didn't until recently, and quite frankly I thought it was a bit of a gimmick. An expensive gimmick! Well, I am loving this! Thank you Carol! I just know this is going to become an ESSENTIAL in my life!
Thank you for the brainy guys who created the Fitbit!!
I'm also thrilled with the Fitbit app which I now have on my tablet.How a Fitbit is changing my life, and hopefully it will help me lose weight! Click To Tweet
A Health Plus!
I can see this doing my health SO MUCH GOOD. Every bit of food that crosses my lips gets recorded and transferred into "Calories in". (Hence the fruit salad instead of bacon and eggs!!!!)
Every step I take is recorded and converted into calories out! Thank you that this is getting me moving away from my computer!
Yesterday afternoon, I glanced at the Fitbit dashboard on my tablet and looked at the "Calories in" and "Calories out" and had a fit! I had taken in way more than I had got rid of! So I was up and out the door, husband in tow, for a brisk 15-minute walk.
I usually struggle to remember to drink. I fetch a glass of water and put it next to the computer and several hours later, I remember it. Now I have a goal to reach, and each time I check the dashboard, I grab another glass of water, and what's more exciting, I drink it! I'm not allowing myself to record it until it's finished! So thank you for all the water I drank yesterday, and I'm already about half way to my daily goal today and it's not even 11 am!
On top of all the Fitbit fun, Carol challenged me yesterday to a "step challenge". What a joke. She has a young boxer dog whom she walks more than once a day for miles along the beach! Still, it'll motivate me to try and walk more, even though this is one challenge I have no hope in winning!
Also, the very fact that someone else is monitoring how many steps I take will remind me to walk! And when I check my steps, I automatically see all the other things I need to get on with. Awesome. If you don't have one, take a look at them here.  This is the same model and color as the one I'm wearing. If you're in S.Africa, Takealot has them.
More varied thanks 
Thank you that a week from now, we'll be on our way to East London, another seaside city about four hours away, where my brother and sister-in-law have just moved.
Thank you that a week from this afternoon, we will meet our little great-niece, the youngest member of our extended family, whom we have yet to meet! Watch this space for photos next post!
A few days ago, my husband tried to change the shape of the back of our car. Sigh! Shame, he was doing someone a favor but he misjudged and collected a wall. So what's to say thanks for about that? Quite a few actually. Firstly, praise the Lord he hit a wall and not a BMW!
Secondly, thank you for car insurance. Every month I moan about the cost of our insurance . . . but hey! We're getting the car put back to its original shape for nothing!
In addition to that, the insurance has hired us a car for the period ours is out of action, at no cost. Thank you!
And out of all the makes of cars they could have given us, they've given us a beautiful Fiesta – which is the model of car we wrote off some years ago, and is way our favorite make of vehicle. (We couldn't afford to replace the wreck with another Fiesta.
I need to say we're happy with the Renault Logan (another thank you!) but the one thing we don't like about it is that it is difficult to reverse as the back is very high. (Rob has just proved the problem!)
Great opportunities
We're grateful that Rob is getting so many opportunities to preach at other churches when ministers are ill or on leave. He enjoys the preparation and loves preaching. And he's so good at it!
Thank you that it gives him openings to share the gospel with other churches.
And may I also say, thank you that he gets paid for it! Between pension, effects of recession, our terrible exchange rates, and the expensive cost of living, we're grateful for any extra!
I guess I need to say thank you for a quiet week coming up (in more ways than one!) As a result of my throat, I have had to cancel a number of appointments and will be able to focus on some of my lists on the whiteboard! Given that image above, you'll understand why that is a good thing.
500 thankful points so far this year in the 2018 Thankful Thursday Blogging Challenge. Join me? Click To Tweet
I'm also grateful that I've finally given in to the 1 week of silence on the right day. Today is my first "proper" silent day, and this time next week I'll be with my brother and the family including two-year-old Julieanne. I couldn't possibly be silent next Sunday, right?
We should get our car back tomorrow, hopefully fully restored to its former shape!
Thank you that it's in good time for our trip to Jeffrey's Bay on Friday where Rob is preaching on the Good Friday service there.
Wonderful news that this will be the congregation's first service in their brand-new church. A very small congregation, but they've launched out in faith. Well done to them!
And here endeth this post!
I'm so pleased my time is almost up at this restaurant. Rob should be here soon. I need to visit a little room, but I have a laptop, cellphone, external hard drive and handbag (purse) that I'd have to pack up and probably lose my seat! When he gets here I'll leave him to pack it all up while I take a walk (which will be registered by my Fitbit! HAH!)
I haven't done any formatting to this post yet (apart from the numbers and the first image) but I've been able to focus well on it, and have completed it in one sitting which is awesome. I also have to still add the tip, but at least I know what it is going to be about. I'll finish the post off this afternoon from home and then be able to schedule it at least a few days in advance!
Which reminds me of the lovely two monitors I have attached to my desktop computer at home. Have I ever said thank you for them? I don't think so.
Also thank you for my son having given me an older version of Photoshop some time ago. I love the program.
Thanks also to my friend in Alberton who gave me a free access to the Shaw Academy, meaning I've done two courses with them on Photoshop.
So thank you Shaw Academy for your excellent teaching!
And that brings me to six over my 39 thanks for this week! I lost count! Yay! thank you that I've passed the 500 mark!
[inlinkz_linkup id=772596 mode=1]
I do encourage you to click below so you'll remember when it's Thursday.
Please send me a WEEKLY REMINDER when it's THANKFUL THURSDAY!
Instructions:
Select all code above, copy it and past it inside your blog post as HTML (text).