You asked me a question:
Over the past couple of weeks, I've encouraged readers to ask me questions that they would like me to answer. I said if any of the questions prompted  an interesting blog post, I would send the writer a pdf of one of my eBooks. I'm delighted to share with you that Alana asked a fascinating question. She asked "What one thing about South Africa do you think is most misunderstood by those who have never visited?"
The short answer I gave is that strangers to S.Africa are probably surprised to find that we live in cities with skyscrapers and modern buildings, and our wild animals don't roam the streets.
However, I could see this would be a fun blog post to write and read!  Thanks to the media and their vivid imaginations, and naughty children and young people who tell trumped-up stories, the world "out there" is fed some crazy information. So I'm collecting some stories from fellow S.Africans and will write a blog post on the topic! Unfortunately, the blog post will only go up after April as I am enrolled in the A to Z challenge. But I look forward to writing it! Thank you, Alana! And enjoy Naomi!
Now for the Tip of the Week: 
One question I am repeatedly asked, on and off line, is how I manage to get through so much. I wish I could take credit for some wonderful method, but I can't! And for everything I achieve on time, there is something that has had to be discarded or postponed to a later time. But there's one thing I can say really works for me.
I live on lists!
I have a to-do today list on my diary.
Each evening, once I'm in bed, I go through and see what hasn't been marked off, and I do one of three things.
I draw a firm arrow through it and move it to the next day.
The firm arrow gets drawn through it and it's moved to a few days later.
Instead of an arrow, I draw an X through it . . . having decided it wasn't all that important after all.
I also have a large white board up on the wall.
I'd like to show you a photo of this, but I've just cleaned it off to start afresh because of new projects.) I will divide the surface of the board into four main sections. Tonight I plan to draw up a section for
A to Z
another section for Thankful Thursday
and another section for Book Launch
The 4th section is for "stuff" that needs to be done. As it's achieved, it gets erased.
Under section 1 and 2, I list the dates the posts need to go live. When I start the post, I put a \ the beginning of a check mark. When it's finished and scheduled, I complete the check mark. 
Under Section 3 I list randomly everything I know needs to be done. I add dates when I know when they need to be completed, and then I use the same marks as the previous sections. This is likely to be a messy list with me drawing red circles around things I'm forgetting, and big asterisks next to things that MUST get onto my to do list for the next day.
Benjamin Franklin once said, 'If you fail to plan, you are planning to fail.' He was so right, yet I so often fall by the wayside! And I fail.
Click To Tweet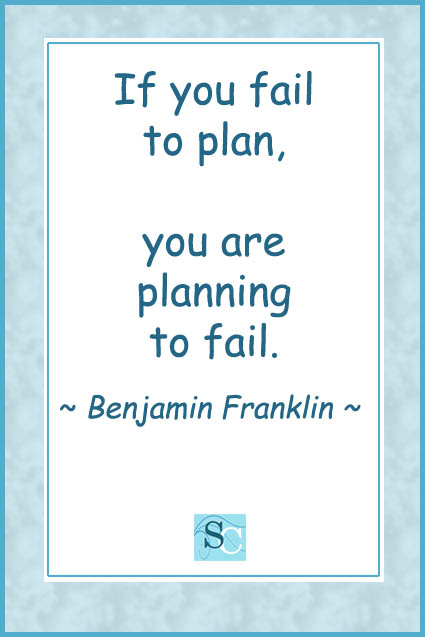 And so now on to my list of thanks.
As some of you will remember, I am aiming at listing 2018 gifts for which I am thankful by the end of the year, 2018. To see how I plan to achieve this, I've gone into details here. (You see? Lists again!)
So let's get on with the reasons I am thankful for the week that's just ended.
Medical procedure:
Thank you to all who wished me well with the gastroscopy last week.
I am thankful for those who prayed for me. (And next time, pray harder! 😕 )
Despite me filling in numerous forms and speaking to every person I had contact with, no one seemed to understand what I mean when I said I suffer from laryngospasm. This is no big deal, and I carry an asthma pump with me just in case. I am thankful that it happens rarely, but I can choke on a sip of water, a crumb of bread, or even a sharp smell! My larynx goes into spasm, and it is almost impossible to swallow or breathe. THANK YOU that the asthma pump works almost immediately.
And thank you that I need it very rarely.
As I said, no one listened to me. And the drugs to give me "conscious sedation" didn't work. As in didn't work. At all. They immediately put this mouth gag into my mouth and stuck the camera into my throat. Well I ask you! What do you think happened? My larynx said, "HEY, NO WAY!!" and went into spasm. I kept hearing the words, "Breathe through your nose! Just breathe through your nose." What don't they understand about a larynx in spasm? I can't breathe. Not through my mouth OR my nose! I am thankful that they registered I was in trouble and hauled the tube and gag back out of my mouth and encouraged me to breathe naturally. (How do you breathe unnaturally?) 
Thank you that I managed to get some air in without the help of the pump which was in my handbag (purse) down in the tearoom with my husband!
It didn't last long!
I am thankful it was a quick procedure and soon over.
Thank you that most people don't have any problem. (Some people just have to be different, you know? But if they'd let me use my pump . . . ! Aaarrgghh!)
It turns out the valve between my oesophagus and stomach is non-active. My vocal cords are pretty burned (which I told them before hand!) but I am thankful for the surgeon's assurance that it will heal. (No singing for 4-5 months. Great.)
Thank you I can continue with my previous medication and all should be well.
They took a biopsy from my stomach to be sure there was no problem, but he didn't think so. He said they would phone me within four days if there was a problem. I am thankful that there's been no phone call!
When I told my kids on Whatsapp that evening, my daughter said, "Oh yes, that's my problem. No active valve." My younger son chimed in, "Yep. Me too. I blame my genes." I said, "Strange. I thought you passed on your genes to your kids. Not the other way round!" (I was joking. Promise!) My son chirped, "No, Mom. That's not how it works. We inherited your genes! You just took much longer to figure out you had a problem!" What can I say? Thank you that I obviously have a higher pain threshold than my offspring! (Or I'm too dumb to notice the problem.  🙄 )
 Book Publishing
I am thankful to report everything's falling into place re. publishing my book in South Africa. Really thrilled.
I am going for a first order of 50 books. I'm grateful they will deliver them free to my daughter's mother-in-law who lives in Somerset West, in the Cape Town area.
They will also print me one proof book free of charge, but I will have to pay courier charges. Glad about this though, just in case there's a problem!
Working on estimated costs, I will have to sell about 25-28 books in order to recoup my outlay. So in the meantime, I will be busy updating book two in the set. Hopefully it will go quicker than the first one. As soon as I have the money back, I will order the next book. Yay!
My eldest granddaughter, Sacha, who lives in George, fifteen minutes away from my elder son, is going through to Cape Town to visit her other granny, so I am thankful she will be able to bring the box of books back with her. Awesome! I don't need to wait for my daughter to come out in July.
But there's a downside to this
But! Panic! Sacha's going at the end of April, and April is a crazy month! The book is finished (as an eBook) but I want to add an appendix, write the back blurb, and create the cover. Thank you that the graphics for the cover are complete, but I have never formatted a complete cover for a print book. So one more learning curve coming up! And in very little time.
Thank you for the A to Z blogging challenge. I'm looking forward to doing the posts. (See here for my theme.) BUT I planned to get them all written and scheduled before the April madness. So far I've done one!
I'm so pleased to have Scrivener on my computer. I have created 29 chapters on their titled Theme Reveal, A, B, C . . . etc, and ending on Report Back. Theme Reveal is already published on my blog, and I've written and scheduled the letter M. Ta-dah! I've got a few notes jotted into some of the other chapters but that's all.
The priority for March and the beginning of April has to be my book so Sacha can fetch them for me. Once she's home, we will drive through to visit our son, daughter-in-law and grandsons (and of course, Sacha) and collect the books. Thank you they live so close.
I have also decided I want to add some pencil sketches into the book as illustrations. They will add to the appearance and quality of the book. And I am thankful that I'm married to a guy who draws.
I'm also thankful that he is happy to do the task, and in fact is getting on a lot faster with his drawings than his author wife is with the book!
Other thanks:
We are going through to my brother and sister-in-law's new home in East London, about a four hour drive away, on Easter Sunday.
Their eldest son and daughter-in-law are flying to them for Easter, with their gorgeous little two-year-old (our youngest great-niece whom we haven't yet met.)
We have arranged to borrow a holiday home in Aston Bay, an hour away, where Debbie and Craig and the two of us can all stay together.
Also, my brother and sister-in-law are keen to come and join us for a few days at Aston Bay.
A Book Launch
Last week I mentioned the possibility of a book launch for the new book. Well, in the space of a week, it's become a reality! I have been able to get the use of the lovely hall here in our retirement village. First thanks in that connection.
My daughter and son-in-law are enthusiastic about getting involved. So we've booked the hall for the time they'll be out from Montenegro.
If my brother and sister-in-law manage to sort out their dates, they'll be with us on the Saturday (28th July) , so the six of us will drive through to Port Elizabeth. We will work together setting up the hall for the Book Launch, and it will be held that afternoon. We will then drive back to Aston late afternoon.
Yesterday, we spoke to our elder son (the one who lives four hours in the other direction from us) and it sounds as if the four of them may come through to P.E. for the weekend and stay in a hotel. They will then also join us at the hall for the Book Launch. Is that all wonderful or not?
So I've gone from not having a book launch at all, to having a small one with no family present, to having a good-sized one attended by possibly ten of the family (including our two little grandsons who will be bored silly!) Thank you thank you thank you.
Thank you too that I have the programme all set in my mind, all involving members of our Happy Echoes choir. So it'll be a fun afternoon. And hopefully I'll sell a few books too!
Family and Friends
I feel so loved right now. I have to admit sometimes I feel sad as our family are all so scattered. But the thought of having most of them all present at once—and that's not so long after our Christmas get-together too. Thank you Lord for family!
I'm also grateful for friends who live in the village whom I know will give me a hand with the technical issues. Especially with us being away and only coming through on the day of the launch, I plan to ask a few to sort out the teas etc for me.
And it's Wednesday! Yayyy!
I am thankful that it's Wednesday. 😛  Why? Because a fast-food restaurant near us have the most amazing Wacky-Wednesday specials every Wednesday. They do three different types of burgers, huge ones, complete with chips. So thank you it's Wednesday.
Thank you I don't have to cook tonight.
That I've just heard Rob arrive at the back door, bearing the burgers.
And I've finished this post just in time for supper.
And it's time to go and eat! Yummy!
Loading InLinkz ...
I do encourage you to click below so you'll remember when it's Thursday.
Please send me a WEEKLY REMINDER when it's THANKFUL THURSDAY!