Happy Thankful Thursday everyone!
Let's start off with the
Tip for the Week:
Have you ever accidentally deleted or over-written your WordPress page or blog post and lost all your content? I've done it a few times, and the feeling of panic is awful. Each time I've had to rewrite the post.
Yesterday, I lost most of this post and there was just no way I was going to have time to rewrite the whole thing in time for this Thursday for reasons explained later. Then I discovered a super easy way to recover your WordPress page or blog post to an earlier version.
Go into the edit screen, scroll down and right at the very end you will see a "revisions" list. Choose the last post (if like me you forgot to save) or a previous option if you wrote over the post by mistake.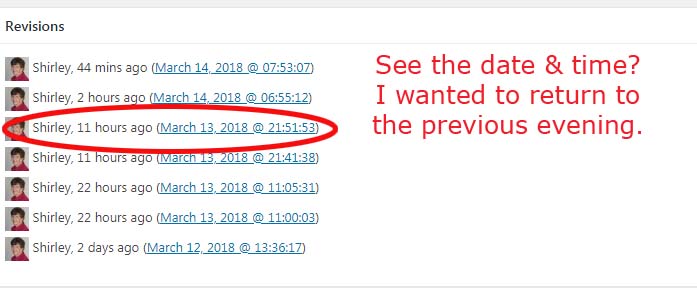 ADDED LATER: Thanks to Leanne who reminded me in a comment that Blogger saves every few seconds, so if that happens to you, you can open the draft and there you go. Unfortunately, I don't know about other platforms, but it's very likely there is a similar option. I hope this helps!
For any of you who are reading this series for the first time, this is the continuation of my Thankful Thursday 2018 Challenge, in which I aim to list 2018 thanks before the end of the year! You can read about the post that prompted my challenge here.
Last week, I ended with the news that we were looking forward to friends Tony and Ruth Dell who are coming for lunch. They presently live in Johannesburg, so we only see them every year or so for a few hours. Tony and I were at school together, and Ruth is a member of the online writing group I run. They are leaving soon to immigrate to Ireland. So I start this week by saying,
thank you for your friendship, Tony and Ruth.
I also say thank you for an enjoyable few hours spent with them a few days ago.
Thank you for many school memories remembered by Tony who was at the same school as me, yet remembers so much more than I do!
The amazing thing is that Ruth and I met up on an internet group for writers hosted in the United States! When she joined CWG, I welcomed her as a fellow South African. We were the only two. It's so great that we met up in that way.
Thank you that we got on well together via the internet group. Sadly, we lived in opposite ends of the country. We were in Cape Town, and Ruth lived in Alberton, near Johannesburg.
Several years later, my husband, Rob, and I went to Johannesburg to spend time with my brother. Thank you for the opportunity.
I give thanks that my sister-in-law agreed to me inviting Ruth and her husband over for afternoon tea.
Thank you that we got on really well, and became firm friends.
The funny thing was her husband kept giving me a strange look, as if he were trying  to remember something. Suddenly he announced, "Gwelo!" (The town where I grew up.) Thank you for that early colonial town in the then-known Southern Rhodesia.
Next word out of Tony's mouth was, "Chaplin!" That was the high school we both attended, many years and many miles ago.  Thank you, Lord, for an amazing school. I eventually remembered Tony, but remember? I already said he has a far better memory of historical events than I do.
Thank you the the famous prime-minister of Southern Rhodesia—Ian Smith—who attended the same school some years before. How funny. I don't think I ever thought to say thank you for that great man!
Thank you that Ruth and Tony have been in touch with us ever since.
Thank you for WordPress!
It's the next morning and I am really saying THANK YOU for WordPress! I evidently closed this post yesterday without saving. I've just discovered how to restore the lost post. Do you know how? I've written it above for you under the

Tip of the Week

eat the top of the post, because this is not the first time I've done this, but other times I've had to rewrite the post!
Thank you for not having to start over. I just don't have time for that today.
Why today more than any other day? Because today I'm going for a gastroscopy in a few hours. Please Lord, nothing serious, but I have suffered from GERD (reflux) for years (a family "curse") and towards the end of last year I had an extremely bad run. The acid appears to have burnt my vocal chords. On top of that, it was nearing Christmas, and I strained my voice forcing out descants. (I know - stupid huh?) I'm not looking forward to the procedure, but I can say thank you that I'll hopefully have the all clear from the doctors by this evening, and I'll know it's just a matter of time.
Modern Medical Technology
So I guess that leads me to saying thank you for modern medical technology.
Thank you too for a friend having recently had a gastroscopy and raving about the fabulous Christian gastroenterologist who is doing my procedure.
Thank you for "conscious sedation" that is supposed to ensure I sort of sleep throughout the procedure. (I'm praying this is so !!)
Thank you for this particular surgeon who I'm expecting to be as super as my friend thinks!
DVDs and Family News
Thank you for the chance to start watching the series The Crown on DVD. Watched the first two episodes last night. It's very good.
Thank you too for watching the DVD, The Perfect Stranger, which we got out of the library two days ago. It's an excellent movie.
Thank you that we have it out for a week, so we're planning to show it again next week to a couple of groups of friends—once the gastroscopy is behind me.
How great to have a 90-minute chat with our son, David, phoning from Johannesburg. We don't hear from him often so that was a big thank you!
It was fabulous to also chat to Timmy, our third-oldest grandchild (David's eldest son) for a few minutes.
Thrilled to hear he's enjoying Scouts this year. He's home-schooled so the interaction with the other kids at scouts is important for him.
Good to hear that part of our family have booked to go on another holiday (vacation) to Disney World in Orlando later in the year.
Publishing news
I'm grateful for finding a South African publisher who is highly recommended and is cheaper than most.
Their quote is within reach for me, just for 50 books.
The shipping costs here are exorbitant, but this firm is in Cape Town and offer free delivery within the Cape Town area. My son-in-law's mother lives in Cape town.
Arlene (Craig's mother) has already agreed to take possession of the box of books and store them for me until Craig and Debbie visit in July.
Craig and Debbie have agreed to collect the books and bring them to me - hence no shipping costs for me.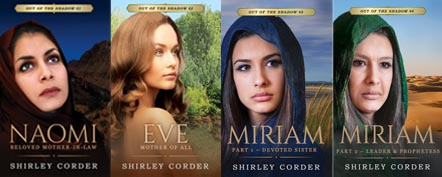 This is the first of my "Out of the Shadow" set of books to go into print. I never thought I'd be able to get the into print as publishing here is a very expensive process. However, I believe I need to do this, one at a time. I won't make money on them, but if I can only sell enough to pay back the cost of publishing, I will get the next in the series published with the same firm.
By doing it this way, provided I recoup my cost, I will have six months to get the next one published in time for Craig and Debbie to bring me the next set when I see them at the end of the year.
This firm will do me a small order of 50. That should be enough to get things started and is just within the amount I have budgeted for publishing.
I'm now thinking ahead to running a book launch. Lots of preparation ahead, but I'm excited about it.
I'm thinking if I can set the date for July, maybe I could have Craig and Debbie with me, both to help and to support me. That would be so awesome. My last book launch took place several years ago and both of my sons and daughters-in-law travelled to be with me. We had a really fun work party the night before. (See photos here.) It would be wonderful if I could do something similar this time round but involving my daughter. Thankful that this is even a possibility! They are not usually around for any celebration. (They live in Montenegro.)
I'm thankful that I'm busy converting the first of the Shadow book (Naomi- read more here) into print through Amazon. It should be available online fairly soon now. Yay! Amazon won't work for South Africans though because of the cost (and unreliability) of our postal system. I'm just concerned about getting the cover right. I'll be calling in some favours from friends to check my work there!
Which is a point! Thank you that I have friends who have gone before me on this journey!
Thank you that I've reached my goal of thanks for this week. Now to format the post!
Thank you for those who read this each week, and for those who have linked up with it. Now if you would all just do it on the same week, it would look awesome . . . !
I do encourage you to click below so you'll remember when it's Thursday.
Please send me a WEEKLY REMINDER when it's THANKFUL THURSDAY!



P.S. Do you have a question you'd like to ask me?
Instructions:
Select all code above, copy it and past it inside your blog post as HTML.
Loading InLinkz ...